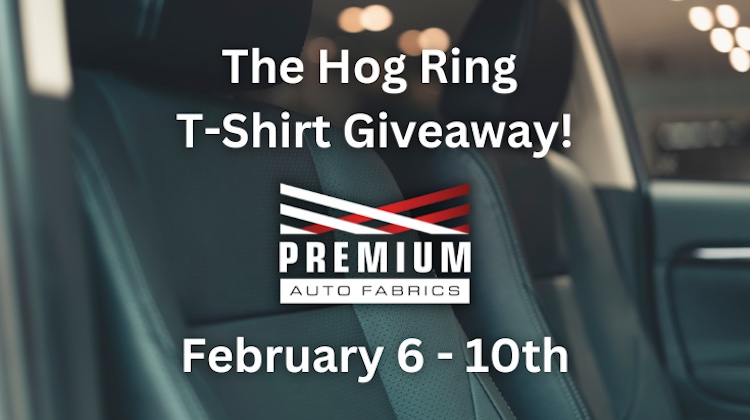 Premium Auto Fabrics is giving away free Hog Ring t-shirts to their Instagram followers.
The online retailer of high-end automotive fabrics — including luxury leathers, vinyls and suedes — is making waves in the auto upholstery industry with its focus on quality materials and exceptional customer service.
But Premium Auto Fabrics also likes to have some fun…
From February 6 – 10, they're giving away our t-shirts. To win, simply follow them on Instagram and answer the pop quiz of the day in their Instagram Stories. Answer correctly and you'll be entered into a drawing to win a free t-shirt. There will be two drawings each day!
Eduardo Zarco of Premium Auto Fabrics said the giveaway is the first of many contests the company will launch this year.
"We're excited to meet The Hog Ring community — which has proven to be exceptionally vibrant and talented," said Zarco. "We also look forward to all the wonderful automotive projects they'll do with our luxury materials."
To learn more about Premium Auto Fabrics, visit their website and browse their inventory at www.premiumautofabrics.com. And don't forget to follow them on Instagram to win a t-shirt.