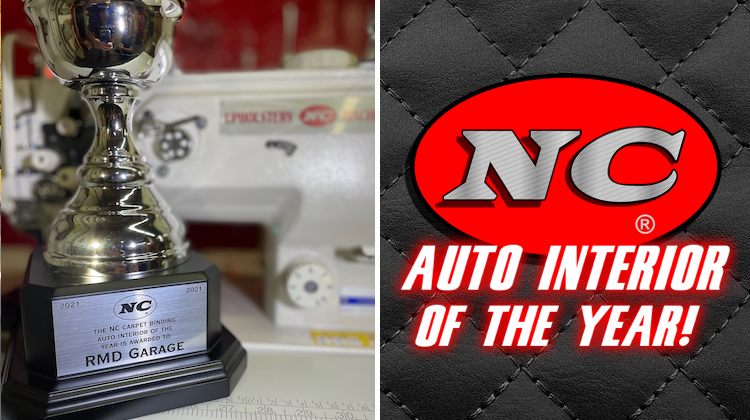 NC Auto Interior of the Year is back for its sixth year — and open to anyone in the industry to enter!
NC Carpet Binding & Equipment is excited to host the auto upholstery industry's premier competition. "We've been hosting this annual contest since 2018 and it has produced some epic interiors," said Mal Maher, CEO. "It's a great way to go head-to-head with elite shops, get recognized globally and strive for greatness."
Although the 2022 contest was limited to "young guns" or rookies, this year's competition is open to any and all trimmers.
"We stepped up our game by adding phenomenal giveaways…will you step up your game and enter?" Maher asked.
THE PRIZES
This year's prizes are ridiculously good! You would be crazy to pass up an opportunity to win.
The contest winner will receive:
A massive trophy to display in your auto upholstery shop.
An SK2019 NC Leather Skiver complete with a servo motor workstation and vacuum system.
A feature in The Hog Ring, where hundreds of thousands of people will read about your work.
Bragging rights & world-wide exposure
That's not all! Anyone who enters the contest is automatically entered to win one of the following giveaways:
1. A free seat at a Bitchin Stichin class in 2024!
"The Bitchin Stitchin class is all about helping trimmers get better and aspiring trimmers learn from the ground up," said Phil Cato of Cato's Custom Upholstery, who hosts the classes alongside Justin Stephens of JS Custom Interiors. "By advancing someone's knowledge base it's helping them grow and ultimately helping the industry grow. Justin and I are all for that. We look forward to reviewing your contest entries and look forward to seeing you at a Bitchin Stitchin class in 2024."
2. NC360 Cordless Hand Held Carpet and Leather Cutter
3. Full set of NC Leather & Carpet Scissors: 8", 10", 12", and heavy-duty 10" carpet shear.
4. 1 package of NC 3/4" French Seam Tape + 75 Color Chart
THE JUDGES
This year's contest will be voted on by a panel of elite shops and industry insiders, including past winners of "NC Auto Interior of the Year": DJ Designs (2018), Stitchwurx(2019), Brent Parker Motor Trimming (2020), RMD Garage (2021) and Budy Built (2022).
HOW TO ENTER
To submit your interior project for judging, follow these simple rules:
You can enter as many interiors as you'd like.
Please document your build as you go along with images and any notes you deem relevant. If you're a finalist, we may call on you for additional images and build information.
DON'T MISS OUT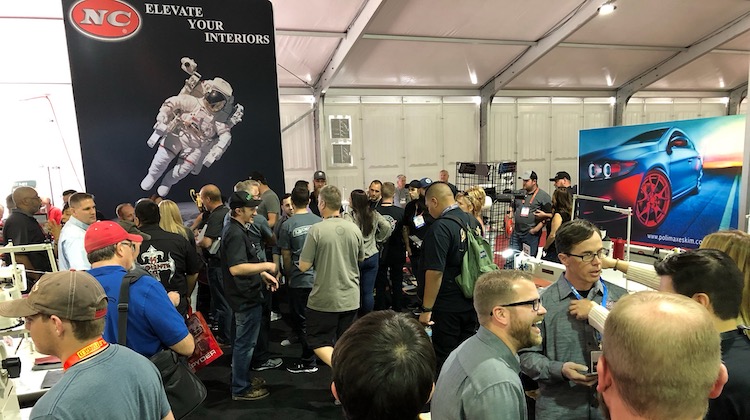 There's absolutely no good reason not to enter this year's competition.
"There's no excuse. Competition breeds excellence and setting a higher bar for yourself will make you better," said Maher. "If you're a trimmer, you'd be crazy not to enter. Even if you don't win, you'll get exposure and connections — it's all upside."
 To learn more about NC Carpet Binding & Equipment and check out their high-quality sewing machines, visit N-CCarpet.com and follow them on Instagram.  Also don't forget to tune in to NC's Podcast "NC Shop Talk," where some interesting guests might discus your entries.