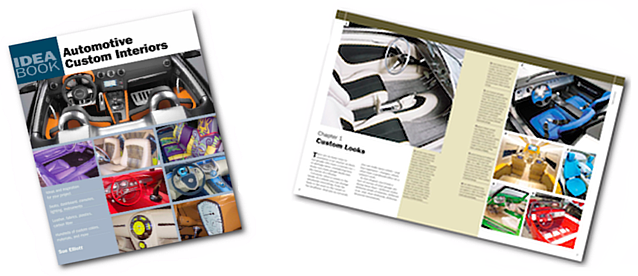 If you're experiencing a case of creativity block, pick up a copy of Sue Elliot's "Idea Book" titled Automotive Custom Interiors (2009, Motorbooks). It aims to inspire auto upholsterers and fabricators with nearly a thousand detailed photographs of custom interior designs.
Elliot cuts out the needless chit-chat, choosing instead to feature designs that range from domestic to foreign cars, and across a wide time span – classic, present day and even concept cars of the future. A variety of themes are also highlighted – including retro, nostalgia, hot rod, modern and high tech. Captions describe techniques and materials used. In most cases, the designers' names are also mentioned so that you can search the net for more of their work if you feel so inclined.
Aside from the inspiring pictures, I particularly like how Elliot organizes the book. It's divided into 10 chapters, each highlighting a different aspect of cabin design. Topics highlighted include seats and upholstery; dashboards and gauges; door panels; consoles; hardware; floor coverings and headliners; trunks; and audio.
I highly recommend this book to all designers and trim shops. It's a terrific reference tool. Whether you're in search of ideas for a current project, deciding on a color scheme, or just lost for ideas in general, Automotive Custom Interiors will surely help.
Pick up a copy on Amazon.com. Even if you only get one good idea from the book, it's definitely a great bargain for less than $20.