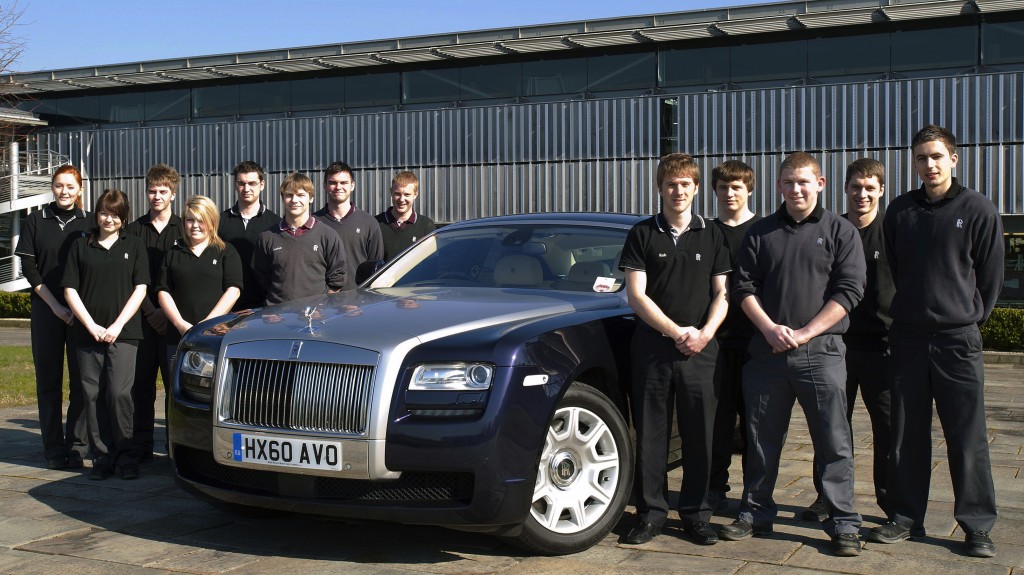 Rolls-Royce is now accepting applications for its prestigious apprenticeship program. Those accepted will have the opportunity to hone their craft under the guidance of experts from one of the world's most elite luxury automakers. Apprenticeship positions are open in Rolls-Royce's paint, wood, leather, motor vehicle, engineering and business departments.
Rolls-Royce's press release in full:
Rolls-Royce Seeks New Apprentices to Join Super Luxury Success Story
Rolls-Royce Motor Cars has announced the start of recruitment for the company's new intake of apprentices. The successful applicants will join the apprenticeship programme at the end of August 2011 working alongside skilled craftspeople in the paint, wood, leather, motor vehicle, engineering and business areas.
The company's apprenticeship programme was successfully launched in 2006 and provides people aged 16-24 with the opportunity to train with the Goodwood-based manufacturer of the world's best selling super-luxury cars. The apprenticeships last for up to four years and combine on-the-job training with studying for nationally recognised qualifications. The opportunity to join the company following a successful apprenticeship is a possibility but only the best apprentices are selected. The programme has been designed in conjunction with the Learning Skills Council (LSC), South East Economic Development Agency (SEEDA) and Chichester and Northbrook colleges.
The apprentices join the company at an exciting time, with Rolls-Royce having announced record sales results for 2010 at the beginning of the year. Since then the company has been celebrating the Centenary of the Spirit of Ecstasy with several high-profile events and recently unveiled 102EX, the Phantom Experimental Electric (EE) at the Geneva International Motor Show.
Torsten Müller-Ötvös, CEO of Rolls-Royce Motor Cars said, "We are delighted to announce the start of recruitment for this year's apprenticeship programme. This clearly demonstrates our ongoing commitment to the development and training of young people in the UK manufacturing industry. On completion of the programme, our new apprentices will be ideally positioned to take advantage of the unique opportunities available at Rolls-Royce."
In 2010, 35 young men and women were employed with the company on industrial placements ranging in duration from six to twelve months; even more positions are likely to be available this year. The company also runs a successful graduate programme, with new positions made available each year.
Potential candidates for all Rolls-Royce Motor Cars positions should apply online at: www.rolls-roycemotorcars.com
— — —
The Hog Ring is the #1 online community for auto upholstery professionals and enthusiasts. Here you can browse pictures, read news and connect with others who share your passion for auto upholstery. You can even check us out on Facebook and Twitter!