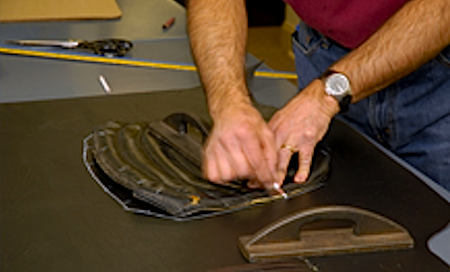 Harry Weimann, auto trim shop owner and Director of Education at WyoTech, published a great article in Hotrod & Restoration today titled "How to Expand Your Customer Base With New Products & Services." In it, he offers some solid advice on how to offer more services and grow your customer base, without overextending yourself or putting off regular customers.
Weimann explains: "In the business world, you have to constantly look at making changes to your business to keep it fresh and up-to-date, and bring in new products and services so that you're not falling behind and becoming old and outdated." After thorough research, Weimann decided to expand his upholstery business by adding auto accessories and appearance items to the mix.
I decided that the first order of business would be to look at the costs associated with adding additional services and determine if those costs might exceed my potential profits. I started by talking to my dealership base to learn what their customers were asking for.
After spending quite a bit of time talking to my dealerships, and researching their customers' needs, I started to compile a list of possible accessories. I categorized the accessory possibilities into the automotive and light truck markets.
The next thing I needed to research was the cost of these accessories, what I would need to keep in inventory and if the cost of maintaining this inventory was feasible. It's best to look at the accessories that you have decided to install and keep the fast-moving, high-profit items in stock and special order those items that aren't used as often.
One very important aspect of adding additional services is to determine if your employees are capable of installing these accessories or if it's necessary to add additional staff. Another consideration is whether additional training and equipment are necessary to install new accessories.
One thing I have found is that many accessories can be installed by adding very little additional equipment, which keeps costs to a minimum. In some instances, such as installing automotive electronics, additional training is required and hiring a qualified technician might be needed. [more]
Still, it's important to note that expanding your list of products and services won't bring success unless you combine it with a strong marketing campaign. After all, if no one knows what you do, no one will come. While Weimann touches on promotional tools like websites, ads and mailers, he states: "I've learned that the best and most cost-effective marketing tools you have in the tool bag are quality work and great customer service. It's important to remember that word of mouth is the best advertising tool you have." Amen.