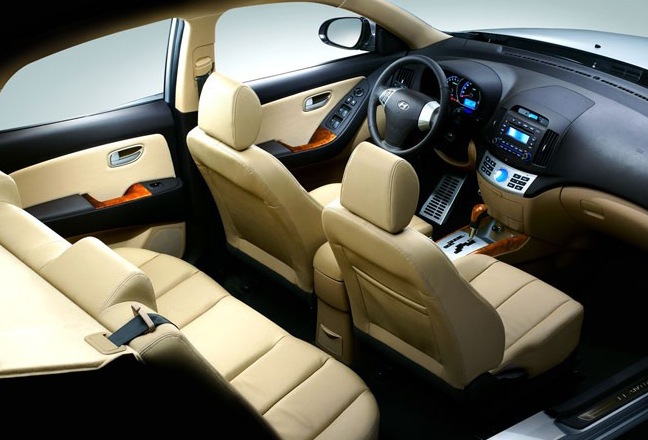 If you're a regular reader of The Hog Ring, then you know automakers are trimming their interiors in some pretty odd materials these days. Ford is using recycled jeans pants, Toyota is using sugarcane, and Nissan – believe it or not – is using water bottles. Now we can add Hyundai to the list – as Ward's Auto reports the new Accent and Elantra will feature trim made from volcanic rock.
Ward's Auto explains:
Realizing that cloth-wrapping the interior pillars of the '12 Elantra compact and Accent subcompact would be cost-prohibitive, Hyundai engineers, working with suppliers…opted instead for a unique composition of plastic resin, fibrous material and volcanic rock to create the pillar trim piece and give it an upscale appearance.
In other words, Hyundai found that by incorporating volcanic rock in its plastics, it could give its interior pillars the look of being cloth-wrapped, while not being wrapped at all. The end result is a more upscale-looking interior.
But that's not all.
Typically, interior plastics are created by combing 0.5% talc with 1% fibrous material and 98.5% plastic resin. By replacing talc with volcanic rock, Hyundai's plastics are now more scratch resistant. Jake Welland, engineering manager at Hyundai-Kia Technical Center, explains:
"Talc is a common filler for polypropylene materials, however, one of the problems with talc is that when you scratch the plastic it whitens and it looks a little bit cheap," Welland says.
When the pillars with volcanic rock are scratched, the gouge still may be noticeable but doesn't have as much contrast as pillars using talc, he adds. [more]
However, this isn't the first time an automaker employs volcanic rock in one of its interiors. The current-generation Acura MDX features a headliner made from the substance.
So what's the benefit? Welland says that infusing plastics with volcanic rock costs a bit more than doing so with talc, but is still half the price of wrapping a pillar in cloth. In the end, Hyundai is able to pass those savings along to their customers – giving them a more luxurious interior for a lot less.