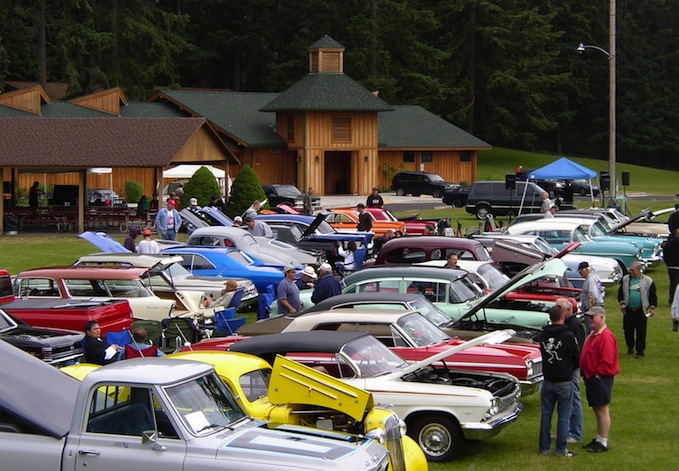 Placing an ad in a local newspaper is a great way to advertise your business – if, for instance, you're a restaurant owner whose target market is virtually anyone who eats. But if you work in the highly specialized field of auto upholstery, you can't afford to waste valuable time and money on broad marketing strategies that provide little in return. To be successful, your marketing techniques must be as specialized as the industry in which you operate.
After all, folks who choose custom upholstery over retail slipcovers are a select few. It's this niche market – comprised of auto enthusiasts and collectors – whose radar you want to stay on. One of the best ways of doing so is by getting involved with community car clubs and auto shows.
Small auto upholstery shops generally attract customers from within their communities. Involving your business with a local car club can narrow this broad pool of potential customers and provide you with the opportunity to directly interact with those most likely to need your services – folks who you know already have a strong interest in vehicle interior restoration and design.
Car clubs
There are many ways to get involved with a local car club. However, the most common is through sponsorship. This usually entails a small sponsorship fee and/or the offering of discount services to club members.  In return, your business may be advertised on the club's website, at its events and receive mention at meetings.
Although helpful, sponsorship is not nearly as affective as becoming an actual club member.  As an active member, you'll be able to forge relationships on a more personal level – especially if you volunteer to lead seminars or how-to demonstrations. This type of face-to-face interaction puts you at the heart of your target market and allows you to gain the trust of potential customers.
Car shows
Participating in car shows is another great way to effectively market your auto upholstery business. After all, it's the one place guaranteed to draw auto enthusiasts of all kinds. However, you'll have to do more than just show up and hand out business cards to differentiate yourself from the other business owners doing the same thing.
Sponsoring an auto show, for instance, is a sure-fire way to get noticed. To do this, contact a show's organizers and negotiate a deal where for a reasonable price your shop's information will be placed on all advertisements for the event. Also, consider renting a booth at the show where you can exhibit your work, allow potential customers to browse through swatches of material and even give free estimates on the spot.
Company cars
Ambitious shop owners may want to go even further and feature a company car at both car club meetings and auto shows. A company car is a restored or modified vehicle that displays your talents much better than pictures can, and proves to potential customers that you're not just a business owner, but a talented craftsman and auto enthusiast as well. Establishing such credibility can help generate trust, respect and a lot more business.
While many upholstery shops are hesitant to invest money in a display car, such projects don't have to be expensive. After all, your goal isn't to win the prestigious Ridler award, but to draw attention to your skills and craft. Shops on a tight budget can save money by focusing more on their vehicles' interior than drivetrain. Just be sure that the vehicle features your absolute best work. Utilizing all of the latest technologies – such as seat heaters, massagers and high-grade materials – gives potential customers an up-close look at what you can do.
It's generally a good idea to go with a classic car with a convertible roof. Modify the interior to differentiate it from those that are merely restored and drop the top to give folks a view from all angles. The inclusion of a ragtop also allows people to see yet another service you provide.
If, however, investing in a company car is out of your shop's budget, consider sponsoring a customer's car instead. In exchange for a reduced price on your services, a trustworthy enthusiast may agree to put your business' logo on his/her car and attend car shows with you. This option is a lot more affordable and may allow you to have a higher-quality show car representing your trim shop.  In fact, with the money you save on restoration and insurance, you may decide to sponsor multiple vehicles – creating an entire fleet of company cars.
Quality not quantity
No matter which marketing strategy you choose, it's important to remember that in the field of auto upholstery, it's the quality – not quantity – of marketing that you do that can make all the difference. After all, it's the quality of your work that keeps customers talking and, hopefully, coming back for more.