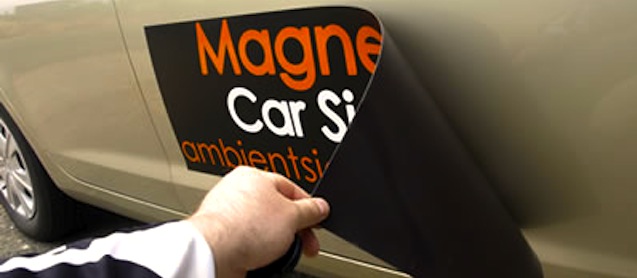 I recently found out that advertising my auto upholstery shop on a park bench would cost about $500 a month. I was so shocked that I didn't even bother asking how much a traditional billboard would cost.
Then I remembered a clever trick that I saw on a trip to Las Vegas last year. Businesses hired box trucks to drive up and down the strip with giant company ads on them. Compared to the cost of placing actual billboards on the strip, they must have saved a ton.
Trim shops can employ a similar tactic for even less by placing magnetic signs on their company or personal vehicles. They cost less than $100 to make and can be ready in a day.
Think of the benefit: You can transform your vehicle into a mobile billboard for thousands of drivers to see for less than it would cost you to place an ad in the Yellow Pages. Every time you stop at a red light, park at the mall or leave your car on the side of a busy street, you're reaching thousands of people for a one-time cost of $100.
Like most things, though, there's a right and a wrong way to do it. Below are six tips to help you get the most out of your shop's magnetic car sign:
1. Keep it simple:  Don't clutter the sign with too much information. Your company name, telephone number, website and simple description of your services (such as "auto upholstery and convertible tops") should do the trick.
2. Use clear, bold fonts:  Avoid fancy cursive fonts – they are too difficult to read. Remember that people have to be able to read your sign from a distance and while it's moving.
3. Pick the right colors: The goal is to make your sign pop. Certain color combinations, like green on blue, are hard to read. However, the contrast between blue and white is stark, so the words really pop out. For the best results, choose dark colors for the script and very light colors for the background.
4. Use reflective vinyl: Reflective lettering shines bright when headlights illuminate your sign – which makes them easy to read at night.
5. Don't drive a hooptie: The only instance in which I strongly don't recommend magnetic business signs is if your vehicle is a piece of junk. If your truck is beat down and ugly or, even worse, the interior is dilapidated with faded upholstery, a sagging headliner, stained carpet and a cracked dash, the magnets may do more harm than good to your reputation.
6. Don't drive like an A@$hole: Remember that your business' name and phone number are on the vehicle. If you run red lights, cut people off or flip the bird, your shop is going to get a bad wrap. Plus you'll probably receive a few explicit voicemails.
Here's what my magnetic sign looks like: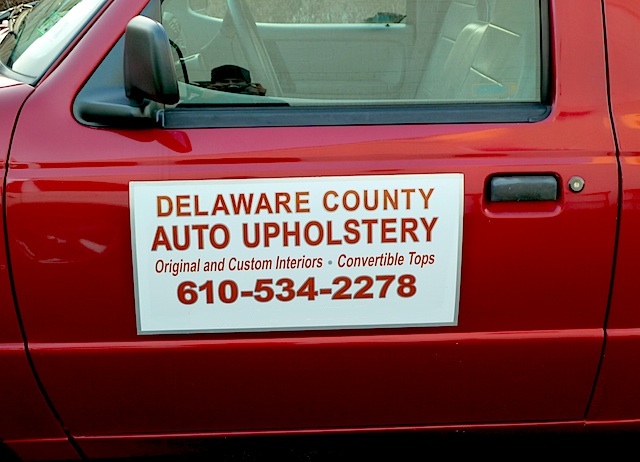 Do you use magnetic car signs to advertise your auto upholstery shop? If so, please share your experience in the comments section below. We could all learn from any tips, tricks or advice you have to offer.