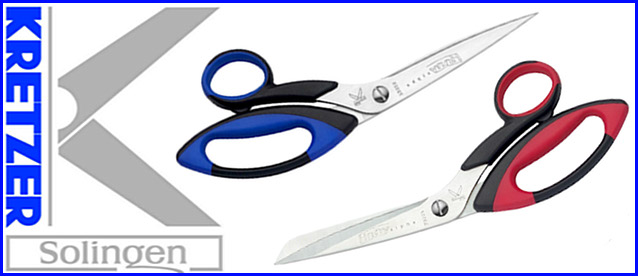 To show how much we appreciate our readers, we're giving away Kretzer shears every week for the next four weeks!
The rules are simple. Read any article (new or old) on The Hog Ring and leave a comment. At the end of each week our editors will choose a comment at random and send the person who wrote it a 10-inch German-made Kretzer shear.
Why Kretzer shears? Because no shop is complete without a pair of sharp, durable, high-quality shears.
I use Kretzer shears in my auto upholstery shop and haven't come across anything better. In fact, I wrote about them in my previous article: 10 Tools Your Shop Shouldn't Skimp On.
"What auto trim shop can afford to operate using cheap scissors?  My supplier sold me German-made 10" Kretzer Finny Scissors last year for $35 and I absolutely love them. The ice tempered stainless steel blades cut through leather, cloth, plastic, vinyl and cardboard like butter. I recommend them to everyone."
A special thanks to Kretzer for sponsoring this week's giveaway. We at The Hog Ring are big fans of the company and highly recommend their products.
To learn more about Kretzer and its products contact Kretzer's National Sales Manager James Crawford at (770) 295-2291 or visit www.kretzerusa.com.
The giveaway starts today and runs for four weeks. We'll announce a new winner every Monday.  The more often you comment, the higher your chances of winning.