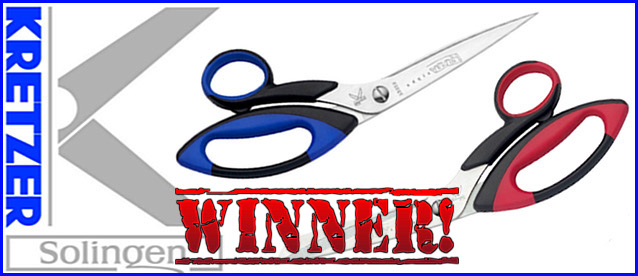 Congratulations to Karen Edwards of KAR Quality Upholstery in Sparks, Nevada for winning The Hog Ring's contest for "Comment of the Week". Karen takes home this week's prize: top-of-the-line Kretzer shears!
Karen was chosen at random out of the hundreds of professional auto trimmers to leave witty, helpful and insightful comments on The Hog Ring this week. We're particularly thrilled that she won – as Karen has been an active reader and contributor to The Hog Ring community since we first launched last February. Her feedback and advice has been invaluable to the growth of this site.
To those that did not win – please continue posting comments. Kretzer has generously given us three more high-quality shears to give away! We'll be announcing a new winner every Monday for the next three weeks.
This week's winner won't be chosen at random. We're giving the shears away to the auto trimmer who leaves the best comment.
The rules are simple. Read any article (new or old) on The Hog Ring and leave a comment. At the end of the week our editors will choose the best comment and send the person who wrote it a Kretzer shear!
Special thanks to Kretzer for sponsoring the week's contest. Check them out for all your shear needs.