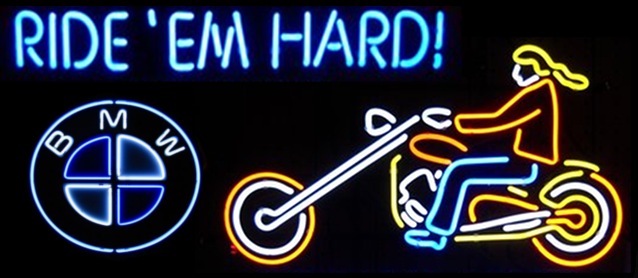 If you design custom motorcycle seats, break out your insurance policy and make sure it covers damage to customers' sexual health. A San Francisco man is suing BMW Motorrad USA and Corbin-Pacific, the maker of his dealer-installed aftermarket motorcycle seat, for giving him "a severe case of priapism" – an erection that just won't go away.
In a legal complaint filed against the two companies, the man alleges that his motorcycle's "ridge-like" seat caused the painful disorder that has left him "unable to engage in sexual activity".
Courthouse News Service reports:
Aside from four pages of checked boxes, the complaint states, in its entirety, that on May 1, 2010, "Plaintiff was riding his 1993 BMW motorcycle equipped with a Corbin-Pacific seat. The ride lasted approximately two hours each way to plaintiff's destination, after which plaintiff developed a severe case of priapism (a persistent, lasting erection). Plaintiff alleges that this condition was caused by the ridge-like seat on his motorcycle, negligently designed, manufactured and/or installed by defendants.
Plaintiff now suffers from priapism (a long lasting erection), and has been experiencing continuing problems since his motorcycle ride. He is now unable to engage in sexual activity, which is causing him substantial emotional and mental anguish. Plaintiff is distraught and distressed because of this. Defendants, and each of them, are liable to plaintiff due [to] their negligent design, manufacture and/or installation of the seat on plaintiff's motorcycle. [more]
The Bay Area native "seeks damages for lost wages, personal injury, medical expenses, product liability and negligent infliction of emotional distress". Needless to say, he's having a hard time dealing with the pain.
Knock on wood, we haven't heard of any auto upholstery shop that's had customers complain of sexual problems resulting from motorcycle seats they've custom fabricated or sold. But in this lawsuit-crazy country of ours, anything is possible.
Think this story is odd? Check out The Hog Ring classic "Woman Killed by Convertible Top".