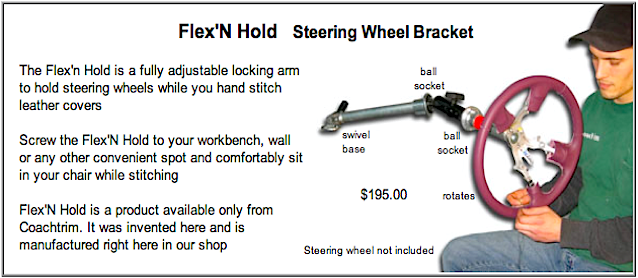 Hand stitching a steering-wheel cover can be a daunting task. No one likes wrapping a mounted wheel while inside of a car because of the tight quarters, but trying to steady a loose one on a workbench can be just as frustrating.
Fortunately, the expert trimmers at Coachtrim in Danbury, Connecticut have developed a tool that can help.
The Flex'N Hold is a fully adjustable locking arm to hold steering wheels while you hand stitch leather covers.
Screw the Flex'N Hold to your workbench, wall or any other convenient spot and comfortably sit in your chair while stitching. [more]
I haven't yet tried the Flex'N Hold, but with its swivel base, two ball and socket adjustment points and a rotating wheel mount, it's pretty clear that you'll be able to focus all of your attention on stitching and stop fumbling around with a loose wheel.
For $195, the Flex'N Hold is also pretty reasonably priced and should pay for itself after the first job.
If you can't yet wrap a steering wheel, consider enrolling in Coachtrim's Advanced Leather Workshop. They'll teach you this skill along with other advanced upholstery techniques.