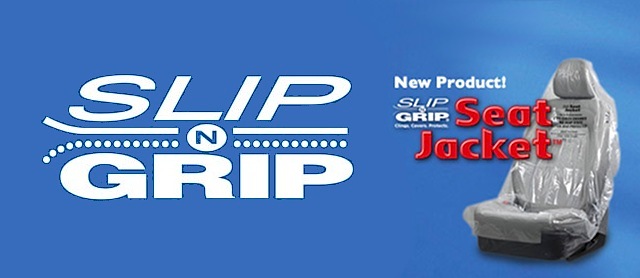 You've cut all the patterns, sewn all the panels and installed the last cover. The seats look great and you couldn't be prouder. You take some pictures for your Facebook page and call the customer. The only problem is, he won't be able to pick them up until next week.
Now you have to store the seats in your shop. But keeping them safe and clean in a busy garage can be a challenge. What do you do?
You can wrap them in blankets, but they always fall off. Covering them in trash bags works great for the backrests, but always tear on the seat track when trying to cover the base. It's frustrating.
In fact, I had just about given up on finding an ideal solution when I stumbled upon Slip-N-Grip seat jackets.
Slip-N-Grip seat jackets are two-ply plastic sheeting specially made with auto upholstery shops in mind. The sheets cling to and protect vehicle seats, and are large enough to fit both bucket and bench seats.
The seat jackets – which come in .50 mil., .75 mil. and 1.0 mil. gauges – are also pretty inexpensive. Depending on the type and quantity you order, they can cost as little as $0.14 each. No doubt, a small price to pay to protect newly upholstered leather seats against costly scratches.
For more information, check out Slip-N-Grip.