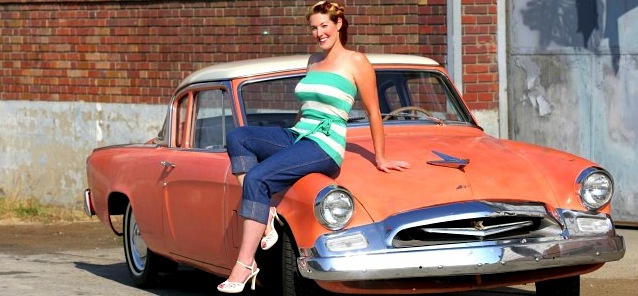 The Specialty Equipment Market Association (SEMA) has partnered with Ford to assemble an all-women build team tasked with transforming a stock 2013 Mustang GT into a one-off show car. The build will be based on Ford designer Jennifer Seely's "High Gear" concept – which is said to be inspired by luxury items like jewelry, couture clothing and high-end architecture.
We recently had the opportunity to speak with Kristin Cline, founder of the Gasoline Girls car club and the woman chosen to lead the interior portion of the SEMA build. Read on as she tells us all about this unique project, her background in auto upholstery and thoughts on the state of women in the industry.
1. Being chosen to lead the team that's installing the interior on the first official all-women Mustang build is a great honor. What was the selection process like?
There was an open registration process for members of the SEMA Business Women's Network (SBN). SBN is a branch of SEMA to encourage and promote female's involvement in the aftermarket industry. I was chosen to lead the Interior team build segment. I'm very honored to be chosen to be a part of this project.
I am not a professional upholsterer – I'm just learning. Professionally, I work in automotive marketing. However I'm an avid enthusiast who is passionate about inspiring more people to get hands on with their cars. I began GreaseGirl.com to reach out to women and beginners. I also founded and lead an all-women car club, the Gasoline Girls, which is based on learning about and working on our cars together. Perhaps one day I'll have the skill I need to work hands-on full time!
2. You blog under the pseudonym "Grease Girl" – but auto upholstery isn't that greasy of a craft. What's your background in the field?
Grease Girl (the blog) is all about reaching out to that beginner or newcomer and encouraging them to go the next step with involving themselves in working on their car. It's true – not all car work involves grease, especially upholstery and paint – but having grease under your nails after working on a car is a little like getting a knee scraped while playing baseball when you were a kid. Although you may not really want it there, its presence is a source of pride!
I had my first experience with auto upholstery when I got my 1955 Studebaker. A complete newbie to car work of any kind, its drivetrain swap was beyond my capabilities at the time. Wanting to be involved – I decided the interior would be my realm of work during that stage. Having a background in sewing and pattern drafting for clothes, I figured I could apply my skill to auto upholstery as well.
Rebuilding my seats, upholstering them, making new side panels and later a custom headliner has taught me a lot about auto upholstery – I am far from a professional though. A friend in the auto upholstery business has helped teach me a few tricks and lent me use of his tools/shop some which has demonstrated to me how to take my skills to the next level.
3. On the Gasoline Girls website, you mention that you rebuilt the interior of a '55 Studebaker three years ago, but that the fabric choices "weren't long lasting ones". How did you go about designing it and what are your plans to revamp it?
When I was initially doing the Stude's interior, I didn't want to invest much money in fabric – because I had a limited budget and knew that I'd learn a lot the first time through and want to do it again! The most important factors for me when I designed Stude's interior were that the bench seats felt "couchy" and that the coral exterior color of Stude was subtly brought into the interior.
I found the upper fabric that I used online on a Hawiaan Barkcloth website. Knowing barkcloth's properties, I knew it would look good and be fairly durable but not nearly as long lasting as true upholstery fabric. All the other fabric I got by scouring the bolts of fabric in Downtown LA's fashion district. I really lucked out on the blue-textured vinyl…it has a very retro look and I'll be sad not to find more when I redo the interior.
For Studie's revamp – I began by taking pictures of various car interiors that I liked at car shows. Then I  posted an article on my website of some favorites for people to vote on. Now I just need to make fabric choices and do the work! As we all know, sometimes our own car projects get done last!
4. In your Gasoline Girls bio, you say trimming your car in new upholstery is "almost like getting a new outfit!" – do you see a correlation between car interiors and fashion?
Most definitely – and not only car interiors but car design as a whole. In the early days of the automobile, luxury carmakers used fashion designers in helping with their design. In fact some models offered matching driving outfits and accessories. I've also found that within the various automotive niches there's a correlation between the cars and the fashions worn by their enthusiasts.
5. As team leader on the Mustang build, will you be participating in the cutting, sewing and installing of the interior or directing a team assigned to do those tasks?
While I would love to be creating the interior from scratch for the Mustang Build – custom-designed covers have been made by Ford and given to us to install.
6. Will your team consist entirely of women or will it include men as well? Did you assemble this team yourself? And if so, what criteria did you base your selections on?
The car will be built entirely by women. While it's unique that a SEMA project car is being built by all women, it isn't too unusual to find women working throughout the automotive industry as we've been in integral positions for quite some time. For the SEMA Mustang Build all the work including the initial designs, interior, engine, suspension, and paint will be carried out by women members of SBN which were teamed up and selected by an SBN committee.
7. Your interior build will be based on designer Jennifer Seely's "High Gear" concept. Will you have some wiggle room to add your own personal touches? If so, what can we expect?
The design has already been voted on by fans and will be carried out to portray that. As with anything involving working on a car, your personal touches show in how you choose to do things. Attention to detail, problem solving, and ingenuity are three key components that allow personality to show through.
8. What excites you most about the interior design of Jennifer Seely's "High Gear" concept?
I love how that the design respects the tradition of the Ford Mustang by being centered on performance and fun. An Edelbrock supercharger was installed as well as other performance components including H&R shocks, Whiteline suspension components and Wilwood brakes. This car wasn't designed just to sit there and look pretty. It's a great blending of performance and looks. The rose gold accents, lowered stance, and black paint provide an aggressive look with a touch of luxury.
9. Who are some of the women trimmers you look up to in the field of auto upholstery? How about the industry as a whole?
Honestly, I haven't worked in a professional capacity with any female trimmers before this project. The most amazing work I've seen on auto upholstery and interiors has got to be within the custom car scene. There is so much talent, creativity, and ingenuity that go into designing and building those interiors. I also have a lot of respect for people who have learned the trade and do their work, paying attention to all the details – taking pride in a job done as best as possible.
In terms of women working within the auto industry – really I have so much respect for all the professional hands-on women I meet out there. We're women who are passionate about what we do!
10. The Gasoline Girls are all about women's empowerment. What is the state of women in the auto industry as a whole and the field of auto upholstery in particular, and how can we as a community help to continue empowering them?
Women have played an important role in the automotive industry for years – but there are still many girls growing up who'd never consider a career in anything car related. The SEMA Mustang Build Powered by Women is an opportunity to shed some light on what women are doing in order to show young women what they can do.
The Mustang will be auctioned on Ebay Motors following its display at the SEMA show in November. All proceeds will benefit the SEMA Memorial Scholarship Fund to continue helping the next generation get the education needed for successful careers within the automotive aftermarket industry.