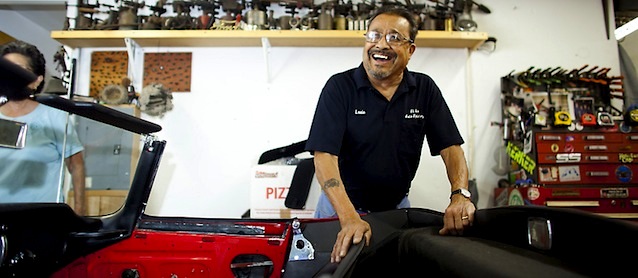 After 41 years in business, El Gato Auto Upholstery in Campbell, CA is preparing to close its doors for the last time. Louie Hernandez, the shop's owner and operator, plans to retire at the end of this month – leaving behind a lifetime's work.
At 78 years old, Louie says it's time to call it quits. He suffers from bronchiectasis, which affects his breathing and makes it difficult for him to continue in the field. He also has no apprentice or children willing to carry on with the family business.
His customers, of course, are sad to see him go. According to the Silicone Valley's Mercury News, he's built quite an impressive following over the years.
Most of his customers have been car lovers– rich, middle-class or guys who should have spent the money on rent instead of leather, bucket seats. But he's a had a few famous owners rolls in their wheels for a interior makeover.
"Willie Mays brought in his Mercedes," Hernandez said about the Hall of Fame baseball player for the San Francisco Giants. "He had bought a chocolate brown car phone, and had me change the carpet to chocolate brown to match the phone."
Race car driver Joe Leonard, who finished third in the Indianapolis 500 twice, brought in a replica of a favorite car for a custom-fitted seat. Hernandez also fashioned race seats for drivers at the old Santa Clara County raceway, including Clyde Palmer, Rod Furtado, Don Babcock Jr. and Lenny Boles. He made 19 motorcycle seats for racer Steve Eklund, a member of the Motorcycle Museum's Hall of Fame. [more]
Though he's closing shop, Louie says that he's not ready to let his passion for car interiors go. In fact, he wants to teach auto upholstery to the next generation of auto trimmers. We hope that Louie realizes that dream; and wish him health, happiness and success in his retirement.
It's hardworking family businesses like El Gato Auto Upholstery that have sustained our industry for so long. While it's sad to see a fellow auto upholstery shop close its doors, it's reassuring to know that our industry is strong and growing.