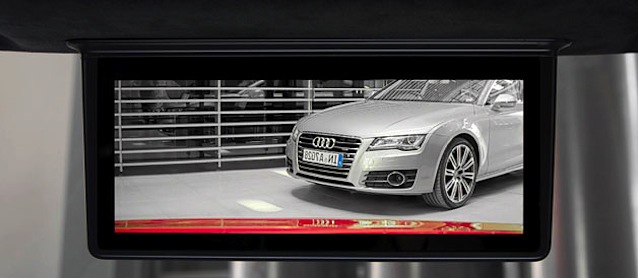 Audi has become the first major automaker to put digital rear-view mirrors into production. The feature – which is based off of popular backup camera technology – is set to debut on its all-new electric R8 e-tron.
The NY Daily News explains:
The 7-inch color AMOLED screen from Samsung will display a high-resolution, high-contrast picture, which will have the same high definition day and night. […]
The screen is connected to an innocuous camera set up at the back of the vehicle, and the whole device will be able to display what's going on behind the car at a wider angle than with classic rear-view mirrors. [more]
According to an Audi press release, the mirror's display dims, automatically reduces glare from trailing headlights and may be switched off by drivers at any time.
The R8 e-tron requires such technology because it has no back window. Audi previously tested digital rear-view mirrors in its similarly styled R18 track racer, which went on to win the French endurance race, 24 Hours of Le Mans.
Despite being odd, the concept of a digital rear-view mirror is not surprising. Seasoned auto trimmers have seen virtually every aspect of a car's interior transition from manual to electric power over the years. It was only a matter of time before the traditional rear-view mirror became digitized.
I, for one, welcome the new technology and hope that other automakers follow suit. Have you ever tried looking out the back window of a new Chevy Camaro or Volkswagen Jetta? It's impossible.