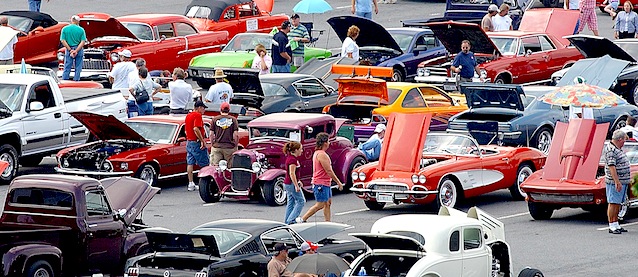 We've written extensively about car shows on The Hog Ring – covering everything from why auto upholstery shops should participate to how to organize one yourself. However, some auto trimmers still steer clear of them – noting that most times they've participated, they didn't book any new jobs.
In his latest article for Hotrod & Restoration Magazine, Ace Eckleberry of ACE Custom Upholstery & Rod Shop explains why this type of thinking is wrong.
Keep in mind a majority of revenue that you'll generate from this type of function will come weeks, or even months, after the initial meeting. You're creating relationships here with potential clients for years to come. Shows are seldom immediately profitable but instead pay off tremendously in the long-term. […]
Keep in mind many enthusiasts take four to six years to complete their builds. A customer can meet and decide to use you several years before he's ready to have you work on his interior. Time spent networking at car shows is an investment in your future bottom line. Build a buzz around your name to create interest in your shop and work. Show genuine interest in client builds and offer any helpful advice or referrals to shops you trust to help them. [more]
In other words, participating in car shows is an exercise in patience. Use them to network, build credibility and market your services. But don't give up if your participation doesn't result in immediate sales.
Instead, consider the few afternoons you invest in working the car show circuit as laying the groundwork for future success.