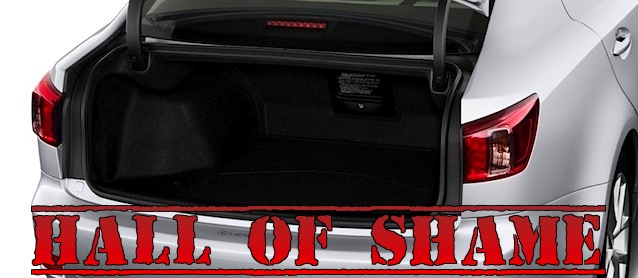 Trimmers often advise their customers to avoid spilling water on their leather seats. One woman in Edina, Minnesota has apparently taken that advice to heart. Local police recently charged her with child endangerment, after she forced her 11-year-old nephew to ride in the trunk of her Lexus so that his wet clothes wouldn't ruin her upholstery.
The local Star Tribune reports:
According to the criminal complaint, Susan Marie McCarty, 38, was charged after she admitted that she had her nephew get into the trunk because he was damp from going on a water ride at Valleyfair.
On the afternoon of Aug. 23, witnesses in a parking lot at the Shakopee amusement park reported seeing a boy climb into the trunk while two women watched. Witnesses gave police the license number of the car, and after being stopped by officers, McCarty told them the back seat console had been folded down so the boy could get some air.
When he said he was getting hot, she said, air vents were aimed at the hole, which was about the size of a piece of paper. Temperatures that day were in the mid 80s.
McCarty said on Tuesday night that, halfway to her car in the Valleyfair parking lot, she realized that she didn't have a towel for the boy. She said she would never purposely put her family in danger and was glad no one had been hurt. "I didn't assess the situation," McCarty said. [more]
If convicted, McCarty could face up to a year in prison and $3,000 in fines. But hey, at least her car's upholstery will stay looking good!