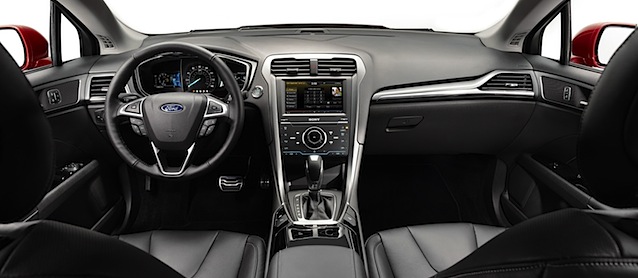 According to Anthony Prozzi, senior interior designer of  the 2013 Fusion, Ford will one day launch a bespoke program for affordable cars – revolutionizing the way they design car interiors.
"There is no reason that you should have to compromise on design or sacrifice anything, even in a car with a starting price in the low 20s," Prozzi said during an interview Thursday at The Dallas Morning News. […]
Simply put, he says, style sells.
"Consumers today expect functionality and quality, but also style and a sense of 'premium' that usually comes with a designer label — and all with an attainable price tag," he said.
And Prozzi thinks this is a trend with long legs.
Ten or 20 years from now, some mainstream automakers will offer customized interiors in their moderately priced vehicles similar to those in extremely expensive cars today, he said.
"There should be no compromises whatsoever," Prozzi said. "Ford will become a highly specialized consumer-product group." [more]
With so many drivers clamoring for better car interiors, it's not surprising to hear that an automaker is interested in launching a bespoke program for affordable cars. However, it is ironic that the news is coming from Ford.
After all, much of Ford's success can be attributed to the fact that it was the first automaker to perfect mass production. Prior to Henry Ford's introduction of assembly line techniques to the auto industry, all cars were custom and hand-built.
No doubt, Ford's interest in custom interiors is a definitive sign of the changing times. Car interiors finally matter and that's not going to change.
Case closed.