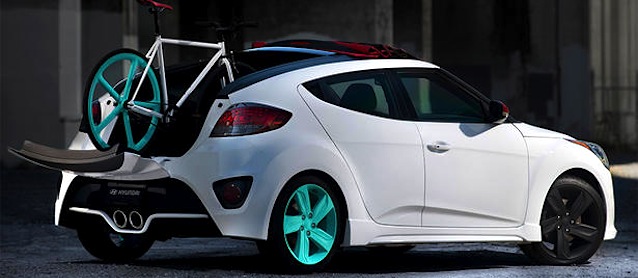 Aftermarket sliding-canvas roofs have been around for quite some time. However, they've only recently begun gaining ground with the OEMs. We already told you about the Fiat 500c and the Citroën DS3. Now check out the roof on the Hyundai Veloster C3 Roll Top Concept.
While the Veloster's canvas roof retracts backward like a traditional roll top, it can also protract forward – taking the rear glass window with it. With the top forward and the tailgate down, the Veloster looks like a cross between a rally car and truck; and features the utility of a pickup bed.
Personally, I love the design; and the art printed on the canvas is a great touch as well. It's awesome to see a manufacturer let go of traditional notions of how a convertible top is supposed to work and try something different for a change.
With less traditional drop tops gaining ground, I'm excited to see what the future holds for the convertible-top industry. Of course, auto trimmers will be left to fend for themselves when it comes to their repair or installation – but that's nothing new.
Generally speaking, our craft is based on individual trimmers' abilities to reverse engineer OEM designs. We don't rely on installation guides. We rely on skills and experience.
We adapted and learned when power sunroofs and hardtop convertible were introduced. We'll do it again.