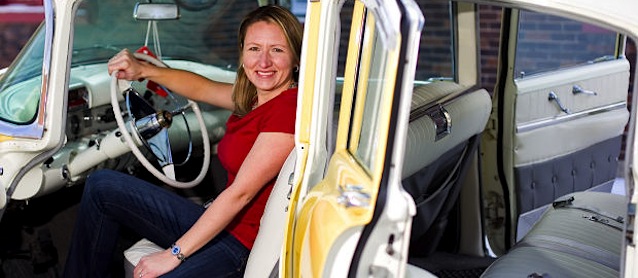 Utah's Daily Herald recently published an interesting profile on Shessann Logue, owner and operator of Arrowhead Upholstery. If you're at all interested in how other trimmers got their start in the craft, it's worth a read.
Shessann, who says that she's been sewing for as long she can remember, began by designing blankets and clothes for her dolls. Now, she specializes in classic vehicle interior restorations. She explains:
"My dad is a mechanic so I have lots of his clients who have seen my work that come to get their cars interiors redone. It is something I have done for a long time and that I really enjoy. My business has grown from word of mouth about my work." […]
"My favorite part of this job is seeing a project from start to finish. I love when a customer brings in a vehicle that is over 50 years old, chewed up by mice and just a mess. I love finishing the interior to what they have in mind and then blowing the customer away when they come in to the see the finished product."
Read the full article, "Classic car interiors made new again by Payson business owner", to learn more about Shessann's background in the craft and how she uses the success of her auto upholstery business to give back to her local community.