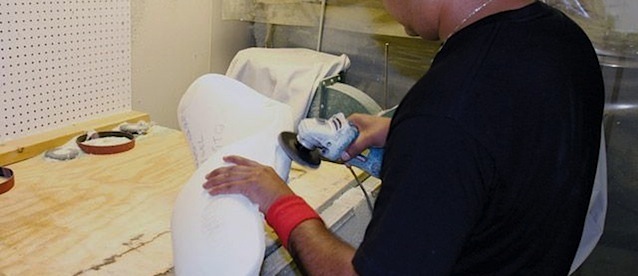 Forty years ago, Danny Gray started out in this business with a typical upholstery shop working on cars, boats, golf carts and everything in between.
However, it was the beauty and comfort of his custom motorcycle seats that attracted iconic chopper builders like Arlen Ness, Dave Perewitz and Don Hotop to his shop – eventually allowing him to focus on this niche.
Today, Danny Gray operates a 25,000 square foot facility in Santa Ana, CA where he balances the production of high-volume, ready-to-order motorcycle seats with one-off customs.
Most recently, his company, Danny Gray Motorcycle Seats, was featured in Baggers Magazine with a great pictorial on the production process of his Short Hop 2-Up seat. The pictorial shows every step of the build – from making the fiberglass seat pan to installing custom-trimmed leather upholstery.
Check it out: "Danny Gray Seat Build".
[photo cred: Baggers]