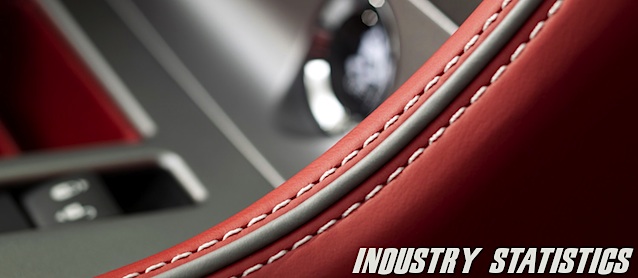 Hotrod & Restoration Magazine has published its annual report on the automotive restoration industry – including statistics on hourly rates, revenue and busy seasons for auto upholstery shops. Take a look at the data that they've compiled and let us know how your business measures up.
According to the report, the average auto upholstery shop…
Has been in business for 30 years.
Estimates sales revenue of $149,193.97 in 2013
Charges an average of $55.56 per hour (a slight increase over last year)
Works on an average of 33 vehicles per yeaar
Is at its busiest during the months of May, July and August
Is at its slowest during the months of January, December and February
Of the auto upholstery shops polled in HRR's survey…
37% plan to raise their prices in 2013
16% plan to expand their business in 2013
48% have a website for their business
43% use social media to promote their services

62% Facebook
54% Google+
31% LinkedIn
23% HubGarage
8% Instagram
What do you think? Do these numbers seem right to you? How do they compare to your auto upholstery shop? Let us know in the comment section below.
For more detailed information – including similar data on mechanic, paint and body shops – check out the latest issue of Hotrod & Restoration Magazine.