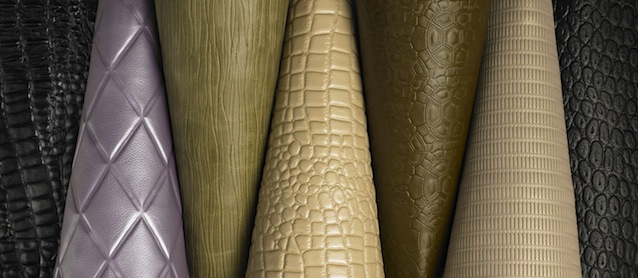 Garrett Leather, which runs one of the fabric industry's most interesting blogs on hides, recently published an article explaining how leather is embossed and what you can do to ensure a quality pattern.
Explaining the three primary methods of pattern embossing – roller, laser and plate, Garrett Leather writes:
Roller embossing is typically done at tanneries during the leather production process. With roller embossing, the pattern is on a large cylinder that slowly rolls over the surface of a flat hide, from one end to the other. Roller embossing is usually done on full hide sizes, thus ensuring no plate lines on the final product.
Another method used in the industry is laser embossing, also known as laser etching. Heat and computerized lasers are used to burn patterns onto the surface of the hide. The lasers are programmed to create custom patterns, such as logos, monograms, or other unique designs. […]
The most common method of embossing uses plates. The pattern appears on a flat, rectangular plate that is carefully placed on the hide. Using a combination of heat and pressure, the pattern from the plate is pressed into the leather. The plate is then moved to another area of the hide. This process is repeated until the pattern appears over the entire hide. Embossing plates vary in size, depending on the pattern. There may be minor plate marks or small areas on the hide where the pattern overlaps and a slight seam may appear along the length of the hide. Plate embossing is typically done on half hide sizes only, due to the size constraints of the plates. However, some patterns with larger plate sizes are done on full hides as well.
The article continues with suggestions on how to place an order for embossed leather so as to ensure you receive the best quality product. For instance, did you know that the combination of heat and pressure used in embossing can sometimes change the color of a hide? To avoid that problem, work with a qualified leather professional to choose a type of hide that's resistant to shade changes.
For more tips and advice on how to order embossed leather, read Garret Leather's article "Leave a Lasting Impression."