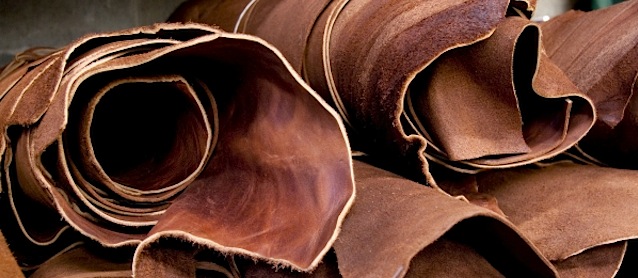 There are a lot of misconceptions about the cost of leather. Most folks assume that the more expensive a hide is, the better it must be. According to Garrett Leather, that's not the case at all.
In their latest blog post, "Understanding Leather Price Points", Garrett Leather highlights six factors that affect the price of hides – some of which may surprise you.
Garrett Leather presents the six factors in the form of a Q&A. We've summarized their answers below:
Where did the hides originate?
Where the leather comes from and the conditions in which the cows were raised affect the quality, and ultimately the price, of leather hides.
Where is the leather tanned?
Leather is tanned in loads of countries. But those with less concern for environmental factors, human rights and equal pay are able to save on overhead. They then pass those savings on to us.
What type of hide is being used?
Hides that come from bulls and cows are not the same in size or quality. Bull hides are generally more expensive.
What is the quality of the raw material being used?
Hides are categorized into different grades – based on markings and flaws. Obviously the best are the most expensive.
How is the product produced?
There are many different types of leather available for purchase. Those that require a longer and more complex process to prepare for sale usually cost more. The two-tone effect of hand-tipped leather is a perfect example.
What additional costs does the company incur?
Like any business, suppliers and vendors that incur hefty overhead costs – related to sales, marketing, etc – pass them onto customers by increasing their prices.
For more in-depth answers, check out Garrett Leather. You may even want to print out their version and hang it in your waiting room for customers to read. That's what I'm going to do.