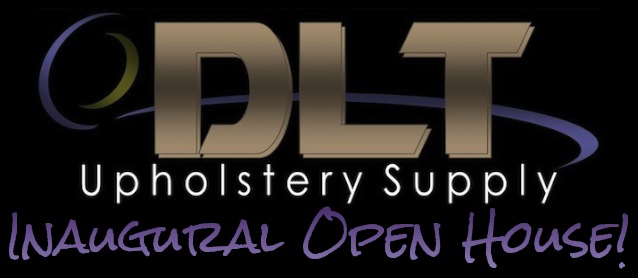 As most of you already know, DLT Upholstery Supply is celebrating its 100th anniversary this year by hosting a fun and informative "Open House" on June 7 – 8 at its headquarters in Oak Lawn, IL.
The event will be jam-packed with informative presentations, vender displays, live music, tasty food and drinks, games, prizes, warehouse tours and much more!
Naseem and I will also be in attendance, so make sure you stop by and say hello. We're really excited to be joining in the festivities and finally meeting members of The Hog Ring community in person!
That's right, we'll be around all day Saturday to network, chat, hang out and – of course – wish DLT a very happy anniversary. We're even giving a presentation on how to make Facebook work for your auto upholstery shop.
Here's a full rundown of the weekend's events:
Friday, June 7, 2013
2:00-2:30pm SEM Presentation
2:30-3:00pm Spradling Presentation
3:00-3:30pm Leggett & Platt Presentation
3:30-4:00pm Quality Thread Presentation
4:00-4:30pm UPS Presentation
5:30-7:30pm Customer Appreciation Dinner
Saturday, June 8, 2013
8:30-10:30am Breakfast Served
9:00-3:00pm Manufacturer Display – Main Event
10:00-10:30pm The Hog Ring Presentation with Q&A Session
12:00-2:00pm Lunch Served
Featured Vendors Include:
Futura Textiles
Nassimi
Kee Auto Top
SEM
UPS
Quality Thread (makers of Sunguard, HiSpec, Contrast & more!)
Legget & Platt
Rontex (Non-Woven Carpet)
Outdura Marine Fabrics
Vicar International (Snaps, Fasteners & Marine Fittings)
Marlen Textiles (Formerly Marchem CFI, makers of Top Gun)
US Bank
Also Featuring:
Prizes!
Food!
US Bank Small Business & Merchant Service Experts!
Health Insurance Specialist!
Free Chiropractic Checks from Chiro-One!
Fun & Games for the Kids!
Free Staple Gun Tune-Ups!
$5.00 O-Ring Replacement!
But Wait, There's More!
Live Music
Warehouse Tours
Free Food & Drinks
Hourly Super Sales with 40-50% off!
Giveaways!
Clearly, this isn't an event you want to miss. Visit DLT Upholstery Supply's events page to learn more details and register today. We'll see you there!