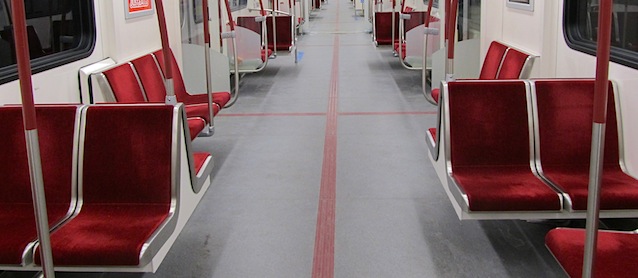 Auto upholstery shops that do a lot of transit work – like cabs, busses, trains and planes – should check out the latest article in Upholstery Journal. It cover everything from the types of durable, easy-to-maintain vinyls you should use to the bidding process required to secure big-time contracts.
Take, for example, this interesting excerpt:
Upholstering for mass transit vehicles requires a special skill set, not to mention the ability to understand industry nuances. "Products require a high degree of technical and design expertise to meet crash, flame, smoke and toxicity standards," says Gene Germaine, director of business development for Kustom Seating Unlimited Inc. in Bellwood, Ill., whose primary market is passenger rail seating. He notes a few challenges, including compliancy of requirements, in that there is a limited number of suppliers that produce specified/approved materials. Another potential problem: "The warranty of the material supplier does not always meet the customer's warranty requirements," he says.
Transit interiors should merge form and function. "You need to be able to balance aesthetics, both in color and design, with durability and robustness that are beyond normal furniture or upholstery norms," Cohen explains. "You have people going into buses with the express purpose of vandalizing them, so you need to understand how to build things so they are vandal-proof."
For public transit, this often means gluing fabric to a substrate rather than sewing it, so the cloth doesn't delaminate or come apart. "That helps with vandal resistance," he adds. […]
Another crucial skill is the ability to run a smart business. Expanding a company's business offerings can translate into higher profit margins. For example, Bergen Upholstery has diversified its services over the years to go beyond basic upholstering or fabric recovering.
"We refurbish bus seat inserts, and we are a parts distributor for almost every seat on the market," Citti says. "We also sell OEM replacement foam for the seats at a drastically reduced rate."
To read the full article and learn how you can get started in transit upholstery, check out "Driving the upholstery market".
Tell us: Does your auto upholstery shop do a lot of work for cabs, busses, trains or planes? How is it different from auto upholstery? Do you have any tips or advice to share with trimmers looking to take on more transit work? Share your thoughts in the comments section below.