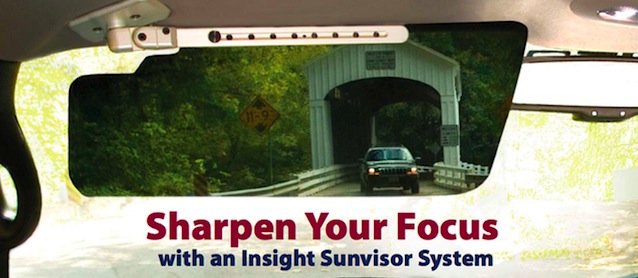 Okay, so they're not quite x-ray vision – but they're still really cool! These transparent, tinted sun visors allow drivers to shield their eyes from the sun while maintaining their full field of vision.
It's called an Insight Sunvisor System and it's made by Rosen, a leader in the aviation industry. Diesel Max, a supplier of the visors, explains:
Now you can have the quality found in commercial airliners in the cab of your vehicle.  Rosen has launched an automotive division and the same high quality has been transferred to their automotive products.  Billet aluminum mounts that are adjustable for tension, slide and retract, and hinge up and down make the visor systems fully adjustable so you can place them exactly where you need them unlike OEM visor systems.
Priced at $399.00 per pair, these sun visors are no steal. However, their practical use and inherent safety benefits can't be ignored. While it's really not economical to carry any in stock, it's good to know that these exist. Who knows? Maybe you'll come across a customer who feels so strongly about sun visors that he's willing fork over that kind of dough.
Of course, you could always pitch the cheaper off-brand version by UBe1 that sells for $14.99 on Amazon. Though bear in mind, you do get what you pay for.
[Hat Tip: Nader]