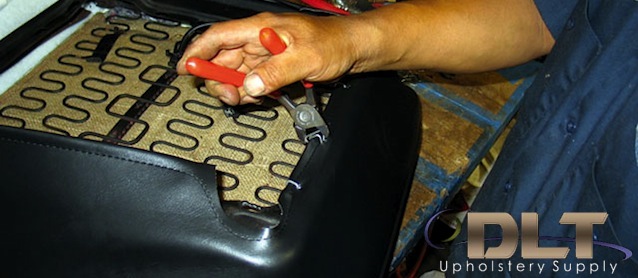 This month's issue of "The Upholstery & Trim News" gives the low down on why DLT Upholstery Supply chooses the quality products it stocks – for example Futura over Enduratex; announces the opening of its full-service customer-service desk in Chicago; introduces a new spray silicone and much more!
Guess what? It's National Staple Stock Up Month! Order your staples for the coming year now and lock in the price. That's right – no price increases at all in 2014. What have you got to lose?
What's more, this month's feature product is Crest Leather – DLT's newest line offering:
Crest offers an impressive range of options for the discerning customer. Featuring Italian cowhide sourcing and production, Crest leathers are beautiful, supple, and highly varied in features and colors. Crest has hides tanned with a layer of beeswax to add a slightly aged look (Selvaggio), tanned only with vegetable product for a fully natural end result (Newcastle), as well as a classic rub-off leather – which allows for a two-tone effect (Windsor). Grains include several in a distressed hide look, polished club finishes (think English Pub from Naughayde, only the real deal!), and small grains similar to Spirit Millennium.
Of course, Crest Leather is also available in a slightly worn look; Aquamarine, which is fully water-proof and pretty much everything resistant; and bespoke, so no more trying to find a color that matches. They'll match any shade you need!
For more sales and promotions, Click here to download your free copy of "The Upholstery & Trim News". Don't forget to check out our article "10 Questions for Sid Chavers, Part 1″ on the back cover and note DLT's holiday hours below.
For more information on DLT Upholstery Supply's products and services, call (800) 458-3500.