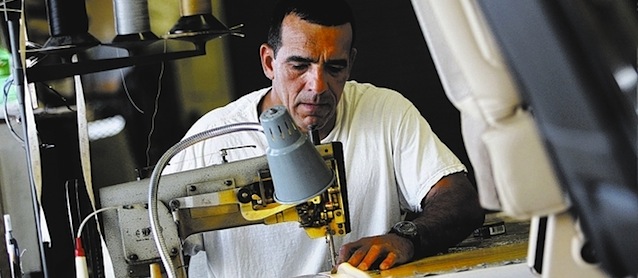 In September, we told you about how inmates at Southern Desert Correctional Center in Nevada are being trained in crafts like auto upholstery to prepare them for life on the outside. Well, after one year the prison shop in which they work just posted a huge profit.
The Las Vegas Review-Journal explains:
The Department of Corrections reported Friday that it earned profits of $432,637 in the year that ended June 30 compared with $237,792 in losses the previous year.
Inmates are paid to work in businesses in the prison and use their income to pay for room and board and restitution costs. The work inmates perform is not supposed to compete with private industry.
Much of the gain was because of the growth in sales in the auto restoration and upholstery program at the Southern Desert Correctional Center near Indian Springs and the horse program at the Northern Nevada Correctional Center in Carson City. […]
The auto and upholstery shop turned a $221,060 profit in the 2013 fiscal year, compared with a $148,394 loss the previous year. Among other things, inmates restore classic cars. [read more]
In case you're wondering, the prison upholstery shop isn't cheap. While the trimmers are paid minimum wage, the shop charges $52 per hour, which is about the national average.
Hopefully the news inspires inmates to sharpen their skills and keep on the right path. Once freed, they can turn their new talents into an honest living.