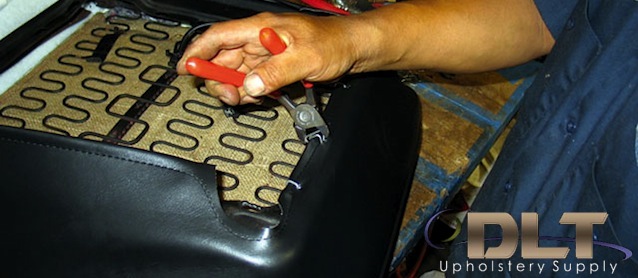 DLT Upholstery Supply ushers in the new year with an issue of  "The Upholstery & Trim News" that's jam packed with helpful product and buying information, as well as some "green" news and one of The Hog Ring's articles!
This month's issue kicks off with a buying guide to help trim shops choose "The Right Glue for the Job." From their very own DuGrip 301 to DAP Weldwood, DLT breaks down the features and suggested uses of the industry's best-selling adhesives. All, of course, are available at DLT for a low price.
A second buying guide, "Walking in a Webbing Wonderland," highlights the differences between various types of seat webbing. Traditional, synthetic, rubber and even polypropylene webbing – DLT carries it all. This guide explains what they are and their best applications.
And how about this? DLT Upholstery Supply has just become the first industry supplier to our knowledge to install a free-to-use vehicle charging station at its Chicago location!
As part of our continuing commitment to exploring new ways to 'go green', we have installed a Bosch Power Xpress charging station for electric and electric/gas hybrid vehicles. … The Power Xpress is a hard-wired 240V charger that will recharge your car in about half the time taken by a normal outlet. … Feel free to stop by any time and top off your electric free of charge!
So why not cruise on over in your Nissan Leaf and pick up some glue, webbing, SEM fabric dye or one of the thousands of other quality products DLT carries and charge your car while there?
Don't own an electric car? No problem. You can also order online or by phone: (800) 458-3500.
For more sales and promotions, Click here to download your free copy of "The Upholstery & Trim News". Don't forget to check out our article "Estimating 101: What You Need to Know" by Fred Mattson of Convertible Tops & Interiors by Fred on the back cover!