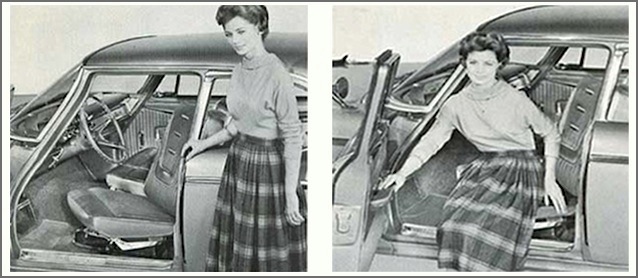 Between 1973-1977 General Motors put a spin on traditional automotive seating when it outfitted several of its models — including the Monte Carlo, Chevelle, Cutlass and Laguna — with swivel bucket seats, which utilized a unique track system that allowed front buck seats to not only slide forwards and back, but also turn towards the outside of a vehicle to assist passengers with entering and exiting.
While the seats were a big hit, GM wasn't the first automaker to introduce the concept. Nearly 15 years before GM dazzled customers with its swivel seats, Chrysler Corporation made the feature available on many of its own vehicles — including the Dodge Royal, DeSota Adventurer, Chrysler 300F and Plymouth Fury.
Both times, however, the feature was short-lived. Renault attempted to revive the trend in 2010, when it made swivel seats a $2,150 option on its compact Clio, but it never really took off.
Today, you're more likely to find swivel seats in lowriders, where the feature has become somewhat of a staple; or RVs and minivans, where it's marketed as helpful to people with disabilities.
Personally, I love the concept of swivel seats and hope that one day it makes a true comeback. Check out the following photos of a swivel seat in a 1960 Chrysler 300F and tell us what you think in the comments section below: