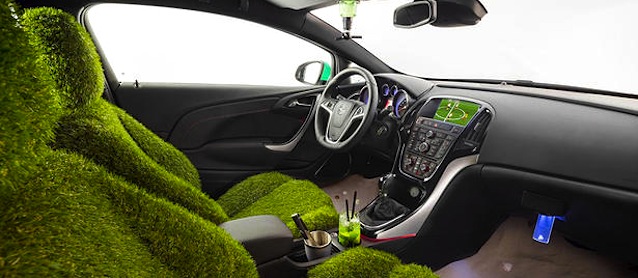 With "green upholstery" all the rage, German automaker Adam Opel AG debuted it's newest car today, the Astra Copacabana — which, among other things, features real grass upholstery on its seats and sand carpeting.
The compact hatchback carries a dual Brazilian and soccer theme, just in time for the South American country's scheduled hosting of the 2014 FIFA World Cup this summer.
Auto news website Car Scoops explains:
Named after Rio de Janeiro's famous beach, the new Astra Copacabana features a livery including the Brazilian flag on the roof, palm trees and dancing lines along the doors.
However, the main feature of the car is the upholstery made of real grass from the Maracanã Stadium, with each vehicle arriving with a certificate confirming the authenticity of the grass. Complementing the greenery there's sand from Copacabana filling the footwells, as well a pair of flip-flops. [more]
For more details, check out Opel's promotional video below…
Interested? Act fast because the Opel Astra Copacabana is a limited edition model — available starting April 1, 2014.