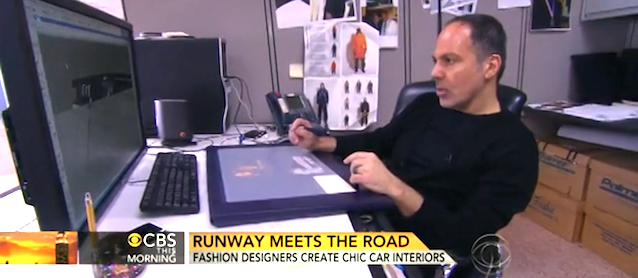 Over the last few years, The Hog Ring has written a lot about the fashion industry's growing influence over the design of car interiors. However, it seems mainstream media is just now catching on. CBS News' Jeff Glor recently interviewed Anthony Prozzi, a former Donna Karan fashion designer turned Ford interior designer, all about it.
Here's an excerpt from the interview:
Prozzi: You know when you put on a great article of clothing, when you see your reflection, when you look good, and what that says about you? A car is absolutely no different — you know? I mean maybe you can argue and say a car is the new fashion accessory.
Glor: A seat back [headrest] like this, it almost looks like a woman's handbag.
Prozzi: Well that's the point of it. You know, when you look at, for example, a Chanel bag, what is it about that bag — even if you didn't know the interlocking C's — that this is something special? That's the power of design.
Glor: Is this the same for you as designing a pair of jeans or coat?
Prozzi: Oh, absolutely. You take into account not just a sketch, but the actual material, the grain of the leather, the quality of the stitch.
Glor follows with this bold statement: "Not many understand those ingredients better than fashion designers, which makes them increasingly attractive these days to car makers." Of course, I'd counter that car makers should have first tapped the skills, knowledge and experience of independent auto trimmers — but I digress.
One of the most interesting parts of the segment is towards the end, when Glor reports on how automakers are using virtual reality to "dream up" new interiors without having to invest millions of dollars into research & development for ideas they may ultimately reject.
To watch the segment yourself, check out: "Runway fashion changing the industry of car design."