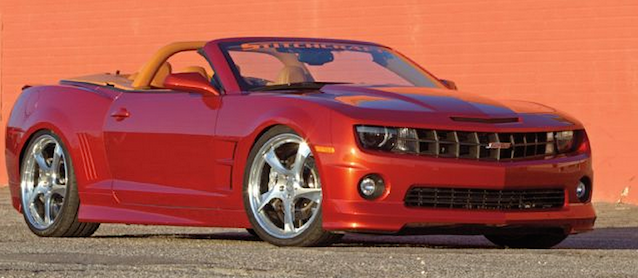 Steve "Revo" Reeves and his team at Stitchcraft Interiors in Westminster, Calif., have been featured on such popular TV shows as "Orange County Choppers" and "Overhaulin'" — for good reason of course, they're excellent.
But don't just take our word for it. Check out GM High-Tech Performance magazine — which recently profiled a late-model Chevrolet Camaro SS the guys trimmed in armor-plated pleats — to see just how good they really are.
GM High-Tech Performance writes:
Reeves and Stitchcraft employee Gaston came up with an armor-plated interior design—but to do it how they wanted was going to take lots of time. "To look like armor, lots of small, detailed design work was sewn into the inserts and seat bolstering. While a normal seat back pattern might have like 22 pieces to it, the Camaro's had around 100 pieces," Revo revealed.
The front door panels' pockets were closed up and enhanced with speaker enclosures for the Alpine system. Next, the rear door panels were redesigned to match the front panels, a rear armrest was added, and the rear seats were cut so matching headrests could be installed. A tonneau cover and CDC light bar—leather, of course—were crafted, then ultrasuede was inserted into all the seats, door panels, and dash. A hand-stitched Grant steering wheel was a nice touch.
And then, Stitchcraft had to make all of that custom upholstery fit perfectly…not a small task.
"We also had to properly gap the car," Reeves explained. "That's when you shave off every piece of the interior so the clearances are right. For example, take the door panel where it meets the dash: There's very little clearance there, so if you put leather on both pieces, the door won't shut. And it's not just the layer of leather—it's the seam where the leather is sewn together. So anywhere anything is touching another surface, we had to take that down."
In total, the Camaro took Stitchcraft Interiors 280 hours — or 7 full business weeks — to complete. Check out the photo below to see how it turned out: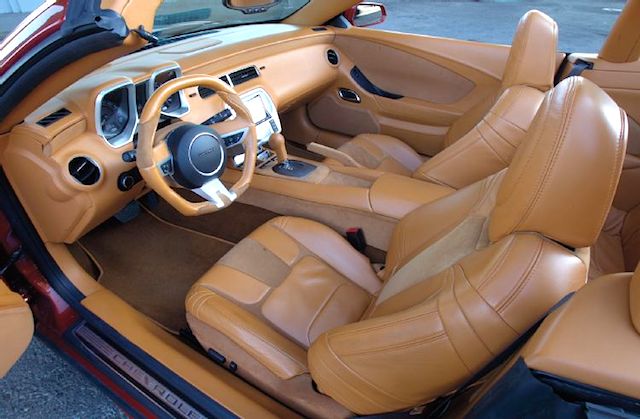 For more great shots of Stitchcraft Interior's custom Camaro SS and build details, check out "2011 Stitchcraft Camaro SS Convertible: Quality Time."