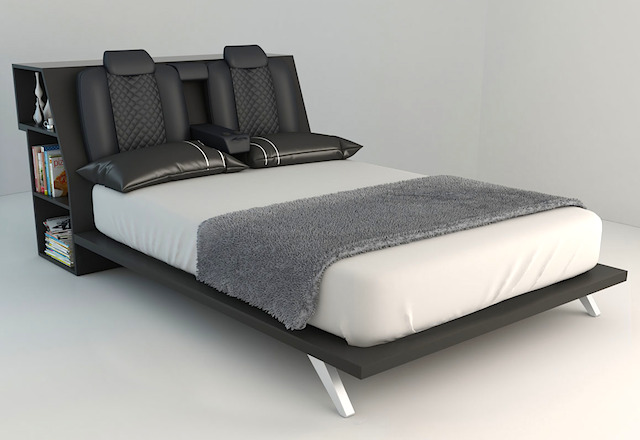 Remember those red sports car beds that were really popular with kids in the 1980's? For those of us who haven't outgrown the fantasy of owning one, furniture company Morgann Paull just started selling a car-themed bed designed for adults.
It's called the Consolatio Car Bed, and features a leather car-seat headboard and armrest. The good folks over at Autoblog explain:
The Consolatio Car Bed features a high-end design like you might find in a nice furniture store along with some automotive-inspired touches. Specifically, the headboard is mounted with two leather seats that Paull claims are perfect for watching TV or reading in bed. If you need some extra space from your partner for the night, there's even an armrest with cup holders in the middle that folds down. Of course, everyone needs more storage, so there are cubbies behind the headboard. Each one is made to order and can be shipped in either two or five pieces, depending on your needs, according to Paull. [more]
It looks and sounds great. But be warned, the Consolatio Car Bed doesn't come cheap. Putting one in your bedroom will run you a whopping $3,999.
Of course, as an auto trimmer, you can also probably build one yourself…