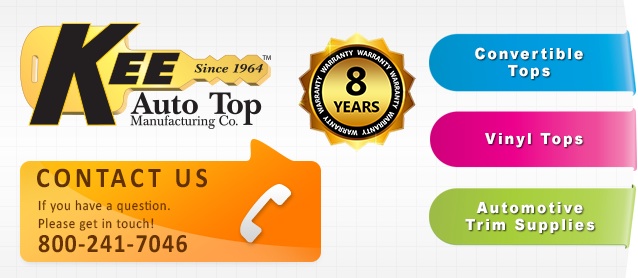 Kee Auto Top is celebrating "National Collector Car Appreciation Day" by offering outstanding sales and promotions all month long! The national holiday, marked every year on July 11, was created to raise awareness of the role automotive restoration and collection plays in American society.
In honor of this special occasion, Kee Auto Top is offering special promotions on all 1950's, 1960's and 1970's convertible tops throughout the month of July. Promotions vary, but they're all impressive. Call (800) 241-7046 to inquire about the top you need and find out how much you'll save!
Why buy from Kee Auto Top? Aside from their outstanding customer service and competitive prices, they only manufacture tops using material from Haartz — a name that's synonymous with quality. Kee explains:
Don't get fooled by low cost "knock off" products that don't meet Original Equipment standards. Haartz has been supplying convertible topping for 100 years and remains the Original Equipment supplier of choice. Don't get caught with offshore, China material; call Kee today for your premium convertible/vinyl top made out of Haartz material.
Of course, convertible and vinyl tops are all that Kee Auto Top sells. While you have them on the phone, request a FREE mini catalog which features a complete listing of convertible tops, vinyl tops and automotive trim supplies — like adhesives, headliner material and more. In fact, Kee is currently running a special promotion on black Madrid vinyl.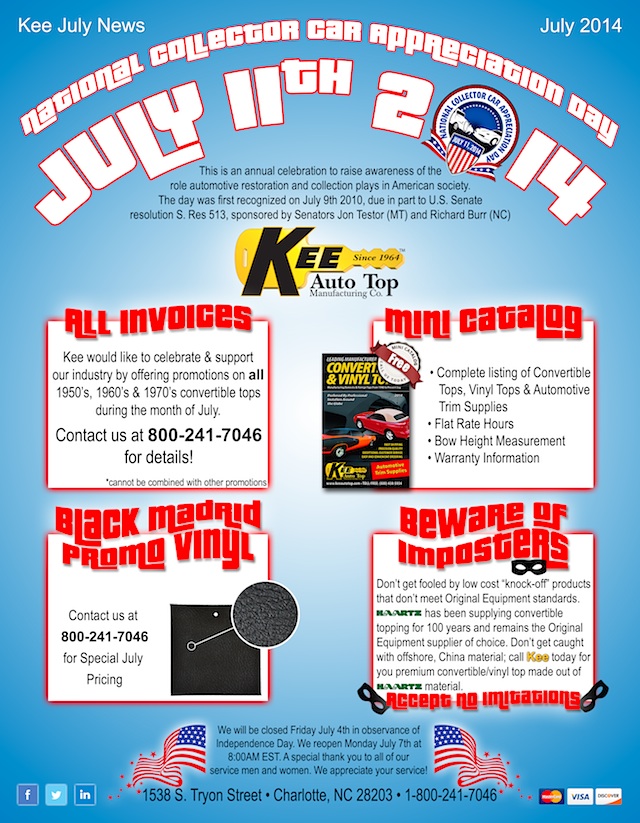 Want to save even more? Kee Auto Top will take $10 off your next purchase simply for "liking" their Facebook page and sharing one of their posts with your friends. It's that simple! To instantly save, click the button below!

For additional information on Kee Auto Top's products, visit KeeAutoTop.com or give them a call at (800) 241-7046.