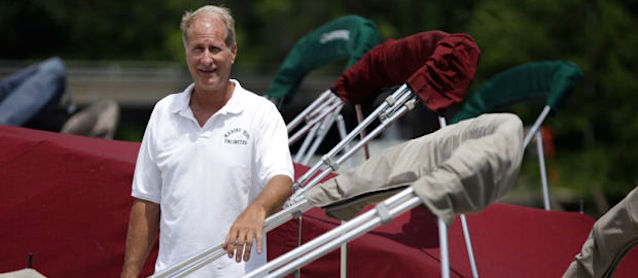 While The Hog Ring focuses on auto upholstery, many of us also dabble in marine work — which is why we're highlighting the following profile of Marine Tops Unlimited, recently published in the Wisconsin State Journal. The shop, found in 1990 by  Steve Griffith, is one of the Midwest's premier boat upholsterers.
Below is an excerpt from the profile. When you read it in full, pay close attention to how Griffith learned the craft, as well as the obstacles he faces, and you'll notice that the marine-side of the industry isn't all that different than our own.
Marine Tops is one of three companies in the Madison area that make boat covers and related equipment. Gallagher Tent & Awning, which has been in operation since the 1880s, does boat covers along with tents and awnings. And a former Gallagher employee, Kris Stone, opened Kris' Custom Sewing in 1990.
"I wasn't sure there was that much work out there, but there are so many things to do, it's unreal," said Stone, who estimates that 60 percent to 80 percent of her work is boat-related.
"Interiors of boats are just crazy. Every boat is different and that's the challenge. There's plenty for all of us to do."
The big challenge for the custom designer is to convince a customer that it's worth it to pay extra for a boat cover designed specifically for their boat rather than picking up a cheaper, generic cover on the Internet or at a big box store.
"Boat covers aren't cheap — at least custom ones aren't," said Griffith, whose business is almost entirely boating-related. "But we live in a big box world. You can go to a big box store and get one for $100. I get them in here all the time. They last a year or two, and then they're falling apart.
"That's where you have to educate people. You have to make them understand that it's made out of better material, it's designed and engineered specifically for your boat, not to fit 10 different kinds of boats. I look at myself as a craftsman or an artist, with some of the stuff we design and build." [read more]
Similar to Mike's Seat Cover Center, which we profiled last week, Griffith describes marine work as "a dying industry." But it might just be that he hasn't yet discovered The Hog Ring —  where we do, in fact, have an inspiring number of young trimmers eager to learn all they can about vehicle upholstery.
Of course, our sponsors Albright's Supply and DLT Upholstery Supply carry everything you need to repair and design custom boat upholstery. Be sure to check them out!