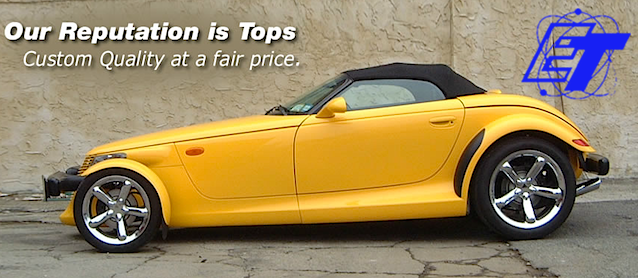 Electron Top mailed a flier to auto upholstery shops this month warning them  to "Beware of Impostors" and "Accept no Imitations" — a call to only purchase and install convertible tops manufactured using Haartz fabric.
The flier reads:
Your customers demand and deserve the very best when it comes to quality convertible topping. Make sure you are delivering the very best by insisting on genuine Haartz convertible topping. Don't get fooled by low cost "knock off" products that don't meet Original Equipment standards. Haartz has been supplying convertible topping for over 100 years and today, remains the Original Equipment supplier of choice for virtually every auto maker worldwide. Haartz convertible topping — your best bet at keeping the "Original" in replacement topping!
The flier, which you can download for free by clicking here, is part of an ongoing campaign by quality convertible top manufacturers to educate trim shops and car owners about the risks associated with purchasing and/or installing cheaper, subpar convertible tops available online. As most trimmers know, Electron Top only uses Haartz convertible topping and never sells directly to customers.
For more on Electron Top, including its latest sales and promotions, check out the July issue of its monthly newsletter "Keep in Touch!"
Some highlights from this month's issue:
Electron Top eliminated the silicone hinge on their conversion glass window assembly for 1967-69 Chevrolet Camaro and Pontiac Firebird. This is an inviting change for those customers interested in converting their window from vinyl to glass.
Electron Top introduces side tie-down cables for the 2006-10 Mitsubishi Eclipse.
Electron Top is collecting original tops for the 2015 Ford Mustang, which is a different pattern than the 2014 model. They are happy to give you a credit on your account for providing them with a top. First come first serve.
That's not all, this month's issue of "Keep in Touch!" features an essay by office manager Kimmy on the importance of Independence Day, as well as a short explainer on "American Flag Etiquette" — both of which are great reads.
To learn more about Electron Top's quality products or to set up a business account, visit ElectronTop.com or call (800) 221-4476. Don't delay — it's convertible top season!