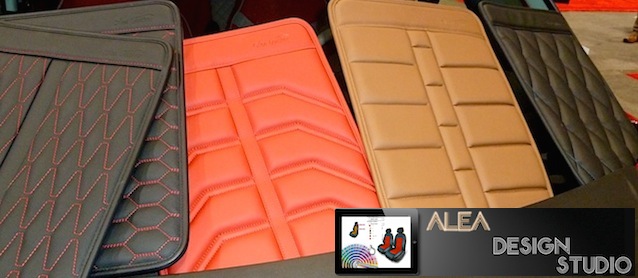 The Detroit News recently published a fantastic profile of Alea Leather Specialist, Inc. that highlights their quality products and services, and sums up why we're so proud to call them sponsors of The Hog Ring.
For those who don't know, Alea Leather is a subsidiary of Sunguard Group, which has been producing high-quality leather seat covers and innovative car accessories for 20 years. With offices in Asia, Europe and North America, the company is an international success story — for good reason too.
The seat covers they manufacture are of the highest quality and fit exceptionally well. They're also available in a range of unique colors and patterns that no other seat-cover manufacturer offers.
The Detroit News explains more about Alea Leather's awesome product line:
Alicia Driggers, sales manager for the [Alea Leather] Wixom office, said that to assure the highest quality, not only does Alea use only leather sourced from Italian herds, but only leather processed in Italian tanneries. For customers who want suede, she said, only Italian-produced Ultrasuede is used. […]
She also said Alea produces 20 special styles of seat inserts, the shoulder and back area of the seat back and the bottom cushion between the bolsters. It also does special-order embroidery, embossing, debossing (raised letters or patterns) and even laser etching.
In addition to the usual sort of seat stitching, Alea offers inverted piping, which she explained as "sewing under a French seam for a more modern reveal."
Because so many seats now have safety air bags built into them, Alea developed a Docuseam system that uses computerized analysis of each stitch to assure it isn't too thick to interfere with airbag deployment nor too thin to cause premature wear.
In addition to front and rear seating surfaces, Alea also can cover steering wheels, steering wheel hubs and door panels. Speaking of door panels, there's an option for internal lighting within those panels.
Alea also offers its own seat-heating systems — for front and back seats — and can install 9-inch DVD screens in the back of front-seat head rests, with each DVD playing a different show. [read more]
Listen, we at The Hog Ring are exceptionally picky about who we partner with. In fact, we've turned down countless sponsorship offers from companies because we just couldn't bring ourselves to endorse their subpar products or services.
As longtime fans – and installers – of Alea Leather's seat covers, choosing to partner with them was a no-brainer. Their products are first-rate, their prices are fair, and their customer service is of the highest caliber. What more could you ask for?
Set up a business account with Alea Leather today by calling toll-free 877-607-8943 or visiting AleaLeather.com. To read The Detroit News' full profile of Alea Leather, check out "Wixom outlet specializes in splashy seats."