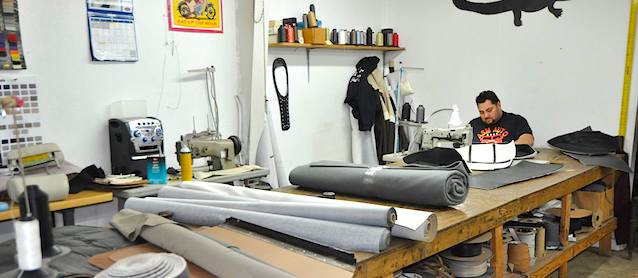 With the rising popularity of DIY kits, it's not often that an automotive journalist pens an article about why drivers should take their cars to professional trim shops to have their upholstery repaired. However, that's exactly what Tom Moor of Angie's List did in his latest piece titled "Reupholstering your car can be well worth the cost."
The article is geared toward lay people, so it's a bit elementary for us. However, it's definitely the type of press our industry needs and should help promote. Here's an excerpt from the piece:
Having a professional auto upholsterer reupholster your car can fix rips, tears or stains. You can even reupholster your entire vehicle to give it a new look, such as switching from cloth to leather seats.
Finding a reputable upholsterer is key.
"It's just like any trade," says Mike Zalewski, owner of Young's Upholstery in Norfolk, Virginia. "You expect to get a job that reflects the fact that we do this for a living. We make sure your seat looks right, your carpet looks right and your headliner doesn't come down."
Types of reupholstering
Auto reupholstering is the process of repairing or replacing your car's seat covers, carpet, headliner, door panels, vinyl roof covers and dashboard.
Highly rated upholsterers tell us the most common job they receive is for ripped or damaged seats, especially seat bolsters. Zalewski says bolsters, which are the curved area at the edge of seats, receive the most damage because people use their weight on them to get in and out of vehicles. An upholsterer can add additional foam to the bolster for support.
Experts can remove and reupholster just the bolsters without reupholstering entire seats.
"They slowly wear down from people getting in and out," Zalewski says. "Replacing just the bolster saves you money."
The cost to replace one bolster is $250 to $295, Zalewski says. Kevin Kent, owner of Kent Auto Upholstery in Indianapolis, says he charges $175 to $185 for new bolsters. [read more]
Best of all, the article wasn't just published on Angie's List — but picked up by California's The Sacramento Bee, North Carolina's News & Observer, Idaho's Idaho Statesman, Georgia's Telegraph, and Washington's The Bellingham Herald, among others.
Please give the article a read, and share it with your followers on Facebook and Twitter.
[Photo: Alex at ASM Auto Upholstery]