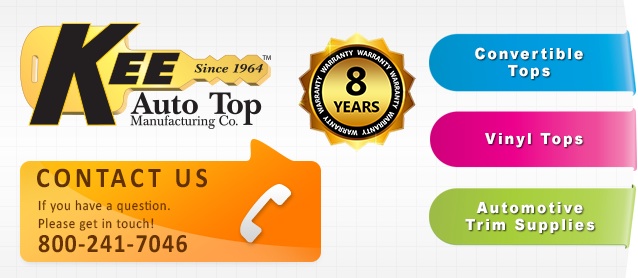 Kee Auto Top is celebrating Thanksgiving with a special note of gratitude and a gift for each of their loyal customers, as well as continued sponsorship of The Hog Ring — because they believe just as strongly as we do in building and supporting a strong community of auto upholstery professionals.
The November 2014 issue of Kee Auto Top's newsletter reads:
As Thanksgiving approaches we would like to thank each of you for your continued support, loyalty, and friendship throughout this past year. We appreciate your patronage as well as friendship, it means a great deal to us.
Thank you for choosing Kee Auto Top as your preferred manufacturer of Convertible Tops, Vinyl Tops and Automotive Trim Supplies. It is our pleasure working with each of you.
The entire Kee team wishes each of you and your family a wonderful Thanksgiving.
To express their thanks, Kee Auto Top is sending each of its loyal customers a limited-edition "1959 Automemories Calendar" — which can be used for 2015, as the days of the month sync perfectly between both years. The calendar features the hottest cars of 1959, making it perfect for every trim shop.
That's not all, Kee Auto Top is also pledging to continue its support of The Hog Ring, and urging others to "support our industry." This, of course, is vital to our online community. Without sponsors like Kee Auto Top, we couldn't afford to cover industry news or bring you valuable resources like our Design Studio, Industry Directory and Auto Upholstery Forum.
Kee Auto Top sponsors The Hog Ring because they believe in our mission to grow and strengthen the auto upholstery community. Please show your appreciation by checking out their growing list of quality products – including their new Corvette landau tops – and giving them your business.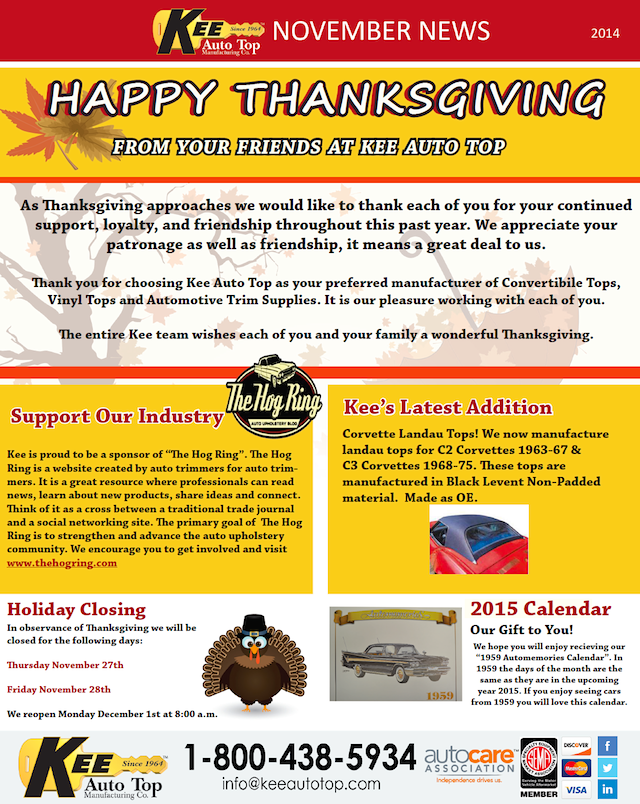 If you haven't already, make sure to follow Kee Auto Top on Facebook and Twitter — where you can learn more about the company, it's fantastic products and stay on top of all their latest sales and promotions.
For additional information on Kee Auto Top's products, visit KeeAutoTop.com or give them a call at (800) 241-7046.