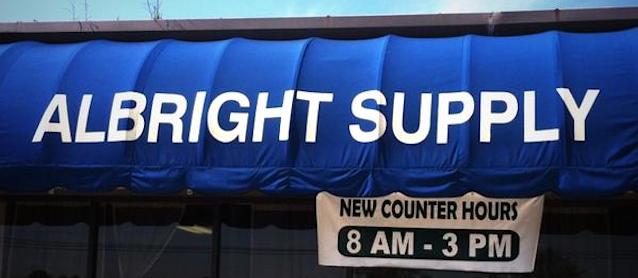 In October, The Hog Ring took a trip to Corinth, Mississippi, to attend the Albright's Supply "Open House" event — which featured great food, door prizes, closeout deals and unbeatable savings on everything in stock.
While there, Chip and Chris Albright took us on a tour of their giant warehouse and even demonstrated some of the machines they use to efficiently process customers' orders. The following videos offer a behind-the-scenes look at their impressive operation.
Free Custom Foam Cutting
In addition to selling an assortment of different foams, Albright's Supply also offers its customers free custom foam-cutting services. Just tell them the dimensions of your cushion or mail them a paper template and they'll cut it out for you at no additional charge.
To do so, they use three extraordinary machines that cut horizontally, vertically and even custom shapes and curves. In the following video, team member Chris Brooks demonstrates how they work:
Vacuum-Shrinking Foam Shipments
As you already know, Albright's Supply provides free shipping on all orders $150 or more. In order to offer customers these savings, they've had to find innovative and cost-effective ways to package and ship their products. In the following video, you'll see Chris Albright shrink an entire roll of ½" sew foam to a fraction of its original size by vacuuming the air out of a package.
You're probably wondering what effects vacuum shrinking has on foam. Surprisingly, none. So long as you open the package once it arrives, the foam will revert to its original size without any diminished quality.
Custom Forklift Attachment
To keep a fully stocked and well-organized warehouse, Albright's Supply must make use of every square foot of their property — often leading them to store heavy rolls of material on high shelves. To safely place and remove these rolls, the team fabricated a custom attachment for their forklift. Watch Chris Brooks and Chip Albright demonstrate how it works:
Rolling and Measuring Material the Easy Way
Albright's Supply makes use of a number of rolling tables. While the machine caught our eyes, we unfortunately didn't get a high-quality video of it in action. However, most trimmers should be able to tell from the following photos how it works: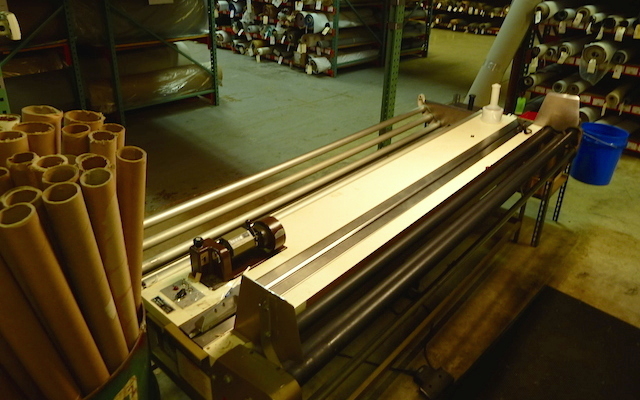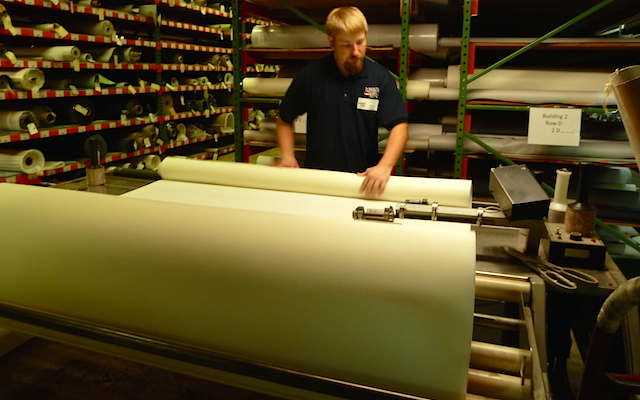 Basically, with the help of an operator – team member Kyle Crider in this case – the rolling table quickly unwinds the required yardage from a roll of fabric, measures it and rolls it back up in a matter of seconds.
Every time I saw one used, I wished I had one at my shop to effortlessly measure and mark how many yards I have on each roll in my inventory.
Warehouse Tour
Finally, here's a short video of us doing a quick walk-through the Albright's Supply warehouse. We were like kids in a candy store!
If you couldn't make it out to this year's "Open House," make sure you catch the next one. Not only was it great to meet the team, but they turned us on to a lot of cool tips, tricks and tools they use at their warehouse that could definitely be scaled down to enhance productivity at our auto upholstery shops.
For more information on Albright's Supply, or to set up a business account, call (662) 287-1451 or visit AlbrightsSupply.com.