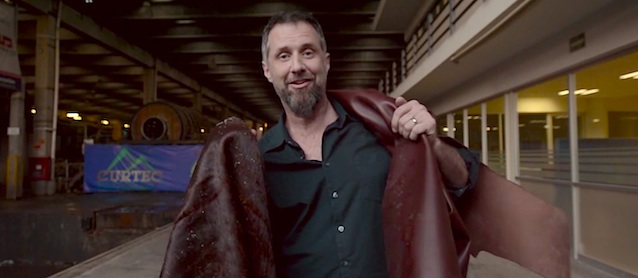 In July, we wrote about the darker side of leather tanneries — examining how some of the low-quality producers of hides ignore their responsibilities to shield employees and the environment from danger. Today, with the help of our friends at Saddleback Leather Co., we'd like to show you how high-quality leather tanneries operate.
In the following video, Dave Munson, CEO of Saddleback Leather, takes us behind the scenes at a first-rate tannery in Mexico to show us what exactly goes into producing superior hides.
Munson explains:
Education is the best defense against low quality and that's why I want to show you how high quality leather is made. This is a behind the scenes, step by step, explanation of how the professionals tan leather, and how they tan it right. There are a lot of steps, that if not correctly followed, will produce low quality and even dangerous carcinogenic leather. Hope you enjoy.
The video – aptly titled "How to Tan Quality Leather and Avoid Bad Leather" – contains a lot of technical information, but it's laid out in an easy to understand sort of way. Munson's snark also makes for a fun viewing. All in all, it's the sort of knowledge that every auto upholsterer should have.