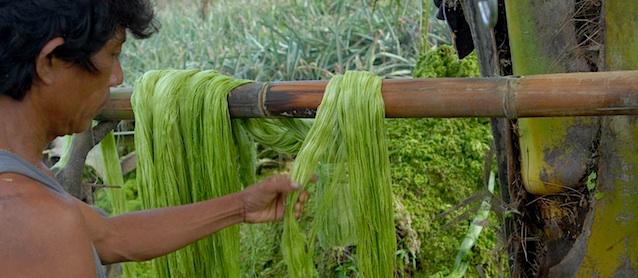 Automakers have been experimenting with plant-based fabrics for a number of years. However, a leather expert from the Philippines is set to revolutionize the practice and lead the charge with a fabric she developed from pineapple leaf fibers that many believe is a more sustainable and cost-effective alternative to leather.
Launched in London last month, the textile was recently profiled  by the United Kingdom's Guardian news website — which went to great lengths to explain how it was created, as well as the benefits it provides:
Called Piñatex – piña is Spanish for pineapple – the new material was created by Carmen Hijosa, who worked as a consultant in the Philippines leather goods industry in the 1990s. She was unimpressed with the standard of goods produced and started to look for alternatives. […]
The breakthrough came when Hijosa realised that she could make a non-woven mesh – a fabric which is bonded together without knitting or weaving – from the long fibers [of pineapple leaves], in a similar way to felt.
The fibers that make up Piñatex are extracted from pineapple leaves on plantations by farmers before they are cut up and layered. They are then put through an industrial process at the end of which emerges the textile. […]
With a similar appearance to canvas, it can be dyed, printed, and treated to give different types of texture. With treatment, the Piñatex can closely resemble leather while separate thicknesses are also produced, depending on the use of the finished product. […]
While Hijosa wanted to create a product that could act as an alternative to leather, she also wanted it to be environmentally friendly. As it is a byproduct of the pineapple, Piñatex is not using additional land to be produced, she said.
"We are completely new. We are not replacing, we are an alternative. We are an alternative to leather and an alternative to petroleum-based textiles which is sustainable and has a strong sociological and ecological background," she said.
The cost of Piñatex…is currently about £18 [$27] per square meter (a piece of furniture would require about five square meters) while leather is between £20 [$30] and £30 [$45], according to the designer. "We have the advantage that our waste is about 5% whereas leather's waste is about 25% so there is a price to pay for waste as well," she said.
So far, industry players have been eager to experiment with the new textile as they search for fresh ideas, although Hijosa concedes it will take some time to develop in the market.
For now, Piñatex is being used to create products like shoes, handbags and home furniture. However, the goal is to introduce it to the automotive market. With automakers under increasing government pressure to make their vehicles more Earth friendly, it's a high possibility — especially if the fabric can save them money.
To learn more about Piñatex, read "Wearable pineapple fibers could prove sustainable alternative to leather."