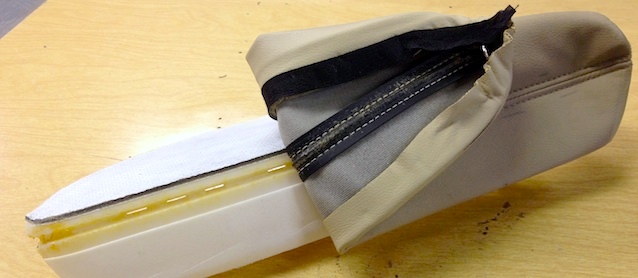 Executing a perfect French seam can sometimes be difficult, especially when you're only using a single-needle sewing machine. However, the stitch is often only half the battle. Installing the upholstery it's sewn on can present a whole new set of challenges, particularly when the element you're wrapping is heavily contoured — like a dashboard or armrest. Automakers, however, have recently found a way to make the process easier.
To achieve a high-end look in which a French seam lays perfectly straight and does not bulge, many trimmers glue only the seam onto the face of the piece they're wrapping and float the rest of the material on the exposed surface. Another method, explained by Brent Parker of Brent Parker Motor Trimming in our Auto Upholstery Forum, involves cutting off the selvage before making a French seam.
These methods work like a charm, but can be too time consuming for automakers. To be more efficient, some automakers have begun taking an entirely different approach.
While recently upholstering the door panel armrest of an Acura TL, I noticed that its original French seam was backed by a rubber piece with an extrusion in the center that clipped directly into the plastic of the armrest. The rubber backing was affixed to the seam by its top stitch. To install the upholstery, simply press the extrusion into the plastic armrest and the French seam lays perfectly straight across the armrest.
Not having the proper equipment for the job, I was unable to make use of the rubber and install the upholstery using the new method. However, I must admit that it left me impressed and I'm eager to learn more.
To see what I'm talking about, check out the following photo: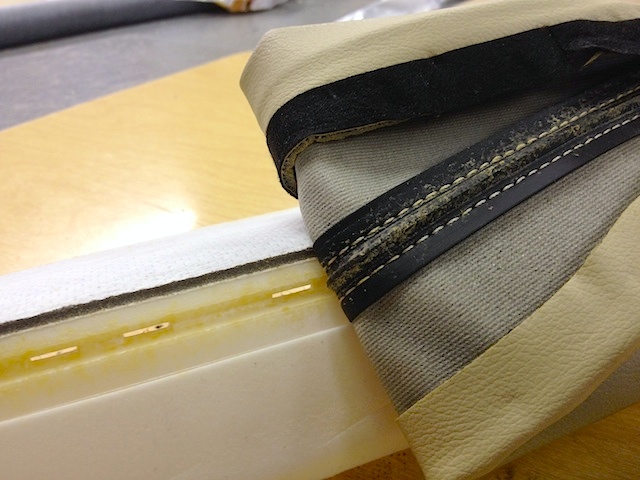 Tell us: Have you come across French seams sewn and installed in this way? And if so, were you able to replicate the method? Please share any tips or advice you might have in the comments section below.