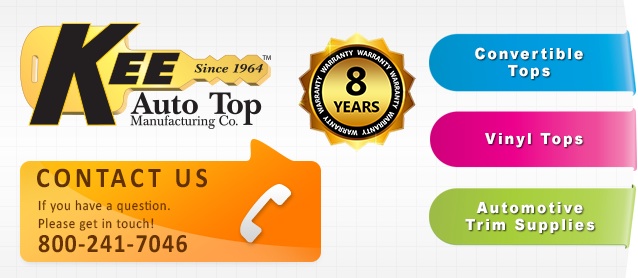 Kee Auto Top is celebrating Valentine's Day with sales and promotions you're sure to love — including great savings on vinyl and convertible tops. Check out their February 2015 newsletter for details.
On sale this month are double-seam and center-seam vinyl tops in elk grain and a range of high-demand colors. Pick from almond, sapphire blue, dark garnet red metallic, gunmetal, autumn maple, chestnut metallic or buckskin.
Not the colors you need? No problem. Kee Auto Top offers just about every color and grain imaginable. For hard-to-find colors and grains, they'll sometimes even have the mill do a special run.
That's not all, Kee Auto Top is also offering a "combo discount" when you purchase any domestic convertible top and hard glass rear window on a single invoice. The promotion applies to all pinpoint vinyl and Stayfast material.
How big are this month's savings? To find out, call (800) 241-7046 or (800) 438-5934 — you'll be happy you did!
Last, but certainly not least, check out Kee Auto Top's newsletter for a "Kee Trimmer Tip" on how to answer the age-old question: "How long will my convertible top last?" It's packed with loads of helpful information to pass on to all your customers.
Click on the newsletter below to download your free copy: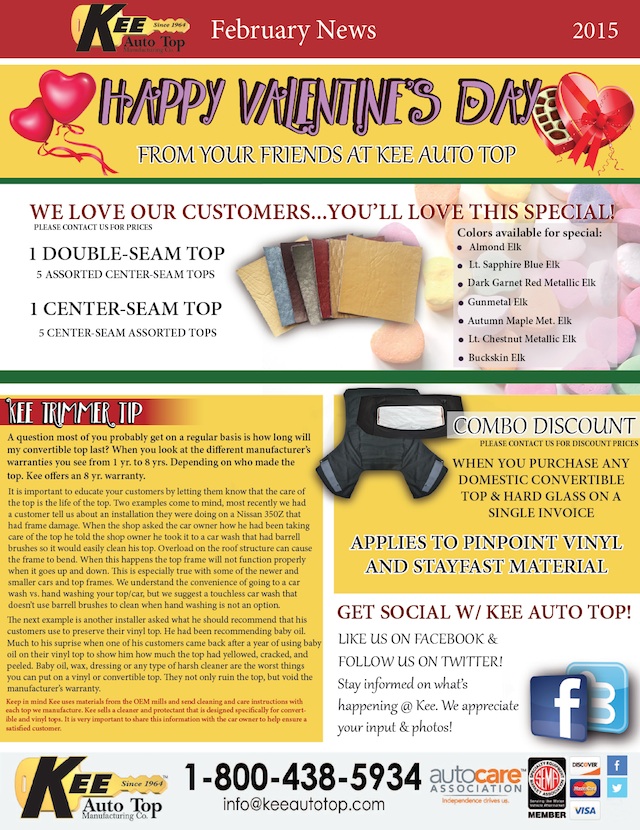 If you haven't already, make sure to follow Kee Auto Top on Facebook and Twitter — where you can learn more about the company, it's fantastic products and stay on top of all their latest sales and promotions.
And remember, whatever your convertible or vinyl top need, Kee Auto Top has you covered. Their catalog includes tops for nearly every domestic and imported vehicle from 1940 to today. What's more, they accommodate even the busiest shops with same-day shipping worldwide on all in-stock merchandise.
For additional information on Kee Auto Top's products, visit KeeAutoTop.com or give them a call at (800) 241-7046 or (800) 438-5934.