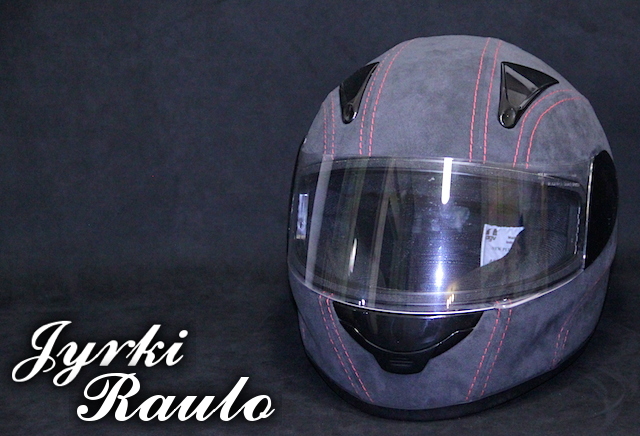 From air vents to car engines, we've seen auto trimmers upholster a lot of strange things. And while they're usually over the top and sometimes even impractical, they're also really cool and super challenging to pull off. Case in point: This Alcantara-clad helmet by aspiring professional trimmer Jyrki Raulo of Helsinki, Finland.
We spotted a photo of the custom-trimmed helmet on Instagram, and were dying to hear the backstory. Here's what Jyrki had to say:
My son uses the helmet when he goes go-carting. I was looking at it a week ago and the thought came to my mind about trimming it in Alcantara.
I drew sketches directly on the helmet for a number of evenings until I was happy with it. It required a lot of measuring and careful planning because it's a round object. When I got that done, it was time to make the patterns, which was difficult and took me a while to figure out. After that, it was time to cut, stitch and wrap the helmet. Getting the cover glued on the helmet was the hardest part. There was no room for mistakes.
Jyrki said the response from professional trimmers and the general public has been overwhelming. Biker clubs have even reached out to have him trim their helmets. In fact, he's doing another one soon.
For now, Jyrki only does upholstery part-time. However, his goal is to open a shop of his own and transition to full-time.
We'd wish him good luck, but with skills and creativity like this, we doubt he needs it.
To see more upholstery projects by Jyrki follow him on Instagram at @jykar.