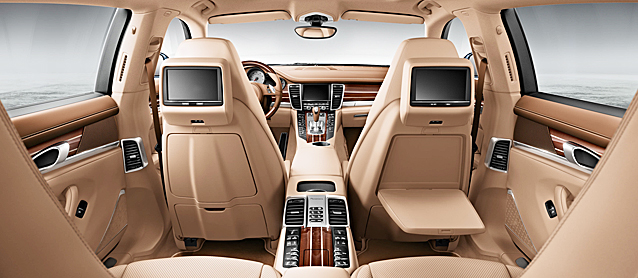 Speaking of the Panamera, automotive blog Jalopnik recently played with Porsche's online vehicle configurator to find out how much it would cost to trim the 2014 Turbo Executive model entirely in leather.
Porsche's price? A whopping $24,140 on top of the luxury sedan's already hefty price tag of $162,000.
Jalopnik explains:
The Interior For Leather section of the options list has more choices than any other interior option selection. Some not-outrageous selections include:
Porsche crest embossed on all 4 seats: $570
Extended Interior Package in Leather (center console, dashboard top, lower door trims): $2,745
Sun visors in leather (OK, you touch them a fair bit and they should feel nice for this price): $740
That's it for the stuff you can rationalize, though. Because some of the following items are either just crazy or crazy and crazy expensive. This is a Porsche, after all. They're the kind of things that, when you find this car for cheap in 2023, you'll wonder what kind of moron spent money on this. These options include:
Fixed luggage compartment cover in leather: $845
Rear view mirror in leather: $675
Air vent slats in leather: $2,505
Personalized floor mats with leather edging: $645
The most you can spend on all of the leather-related options in the Turbo Exec is $24,140, or roughly the price of a loaded Kia Forte that, I might add, also has leather seats and a stitched dashboard top. [more]
If that price made your jaw drop as far down as mine, you're clearly not Porsche's target market.
Rest assure, though, that $162K + $24K for leather is a relative bargain. Custom Panameras – like TopCar Moscow's limited-edition Panamera Stringray GTR – sell for upwards of $500K.