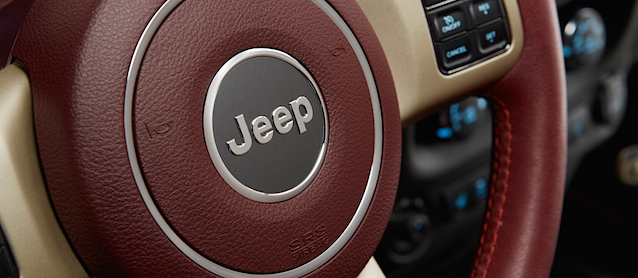 Jeep recently sidestepped its rugged nature to unveil two concept trim levels that sport a range of luxury features, including unique hand-stitched French seams — more evidence that automakers (especially those in the U.S.) are beginning to recognize the importance of a quality interior.
The first trim level, Sundancer, is for the world renowned Wrangler. Its sophisticated-looking cabin is trimmed in premium brown leather and features "gold rush" accents throughout. What's most impressive is the color-matched, hand-stitched French seams on the seats, center console and door panels. With French seams now the industry standard, automakers are looking for new, unique ways to differentiate their stitching. This time-consuming detail is definitely one way to do it.
The second trim level, Sageland, is for the classic Cherokee. Jeep says it was inspired by the historical landmarks and natural sceneries of China's Shangri-La Region. As such, it features a wide palette of earth-tones, including neutral grey Nappa leather seats adorned with red and water-blue stitching (which, as THR member Kruno points out below, may or may not be done by hand). The needlework, which is truly unique, is based on traditional Chinese knot design. Admittedly, it looks peculiar at first, but is quickly admired for its complex pattern.
While it's not clear if these trim levels will ever make it to production, it's exciting to see an automaker as rough around the edges as Jeep stop to create such a refined interior. Perhaps it's a sign of things to come…
What do you think? Do you like Jeep's new hand-stitched French seams? Would you like to see more automakers take up the practice? And, more importantly, is it an interior feature you could see yourself repairing?